SOME PROBLEMATIC ASPECTS OF THE ORDER OF DRAWING OF LAND PLOTS OF COMMUNAL OWNERSHIP INTO ECONOMIC TURNOVER
Economic and legal problems of city management
O.S. Komarova

Institute of Economic and Legal Researches of the NAS of Ukraine, Donetsk
Abstract
The paper describes the features of drawing of lands plots of communal ownership into economic turnover by using the procedure of land auctions. Based on the conducted analysis, the necessity of further developing the legislation of Ukraine on the order of realization of land auctions is noted.
Keywords
land plots, communal ownership, land auctions, economic turnover
Downloads
Download data is not yet available.
References
1. Горохов Д.Б. Правовое регулирование сделок с земельными участками : автореф. дис. на соискание ученой степени канд. юрид. наук : спец. 12.00.06 «Природоресурсное право; Аграрное право; Экологическое право» / Д.Б. Горохов ; Институт законодательства и сравнительного правоведения при Правительстве РФ. — М., 1998. — 23 с.

2. Джабраілов Р.А. Правові проблеми залучення земельних ділянок комунальної форми власності у господарський обіг / Р.А. Джабраілов // Економіка та право. — 2008. — № 1 (20). — С. 103–108.

3. Соловцова О.П. Організація продажу земельних ділянок державної та комунальної власності / О.П. Соловцова // Економіка будівництва і міського господарства. — 2010. — Т. 6. (№ 1). — С. 39–44.

4. Устименко В.А. Коммунальная собственность городов на землю: проблемы и решения / В.А. Устименко // Город, регион, государство: экономико-правовые проблемы : сб. науч. тр. / НАН Украины. Ин-т экономико-правовых исследований. — Донецк : Изд-во «Вебер» (Донецкое отделение), 2009. — Том 1.— С. 90–95.

5. Земельний кодекс України від 25.10.2001 р. № 2768-ІII // Відомості Верховної Ради України. — 2002. — № 3–4. — Ст. 27. — (Зі змін. та допов.).

6. Конституція України від 28.06.1996 р. № 254к/ 96-ВР // Відомості Верховної Ради України. — 1996.— № 30. — Ст. 141. — (Зі змін. та допов.).

7. Тимчасові положення про аукціони, затверджені радами, ніхто не відмінив // Землевпорядний вісник. — 2008. — № 4. — С. 13.

8. Про Державний бюджет України на 2010 рік : Закон України від 27.04.2010 р. № 2154-VI // Офіційний вісник України. — 2010. — № 32. — Ст. 1155.

9. Про затвердження Порядку продажу у 2010 році земельних ділянок несільськогосподарського призначення на земельних торгах : Постанова Кабінету Міністрів України від 02.09.2010 р. № 805 [Електронний ресурс]. — Режим доступу : http://zakon1.rada.gov.ua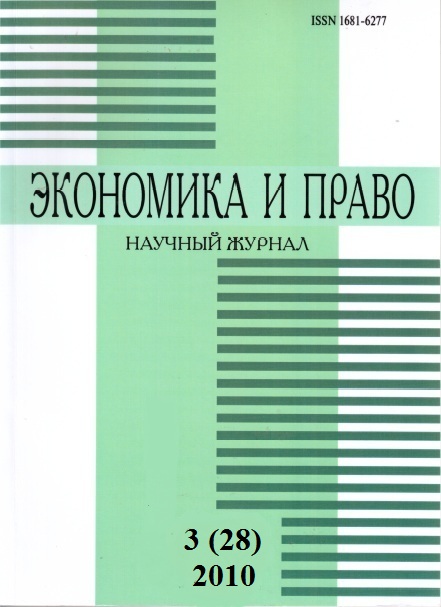 Abstract views: 1 PDF Downloads: 1