REGARDING THE NEED TO APPLY THE THEORY OF LEGAL FICTION WHEN DEFINING THE CONCEPT OF "CRYPTOCURRENCY"
Section "Law": Theory and History of Economic Law and Process
Abstract
The article is devoted to the legal analysis of the concept of cryptocurrency in the context of the need to harmonize its legal and economic characteristics. The economic content of cryptocurrencies has been studied, taking into account the fact that they were created specifically to perform economic functions — decentralized storage and circulation of value. It is substantiated that the presence of decentralized principles of cryptocurrency emission through mining and the existence of blockchain technologies and cryptographic algorithms do not allow the state to establish legal features of cryptocurrency through traditional legal forms of defining a certain subject as a means of payment. It was concluded that cryptocurrency couldn't be defined as an intangible good, regulated by the Civil Code of Ukraine, because of the economic purpose of cryptocurrency as a means of circulation and preservation of value. It is proposed a legal approach to cryptocurrency, which would allow incorporating cryptocurrency into the national legal system and circulation operations, prevent shadow operations and the legalization of "dirty funds". In this context, it is proposed to approach cryptocurrency as ejusdem generis, bringing the understanding of cryptocurrencies closer to other things. The possibility of recognizing of cryptocurrency as the right of claim characteristic of non-cash money is denied. Unlike electronic money, cryptocurrencies do not mediate the payment obligation and the right to demand. It was concluded that cryptocurrency should be defined, taking into account the theory of legal fiction, an interchangeable type of virtual asset in the form of an encrypted electronic record, the emission and accounting of which is performed decentralized on the basis of distributed ledger technology and cryptographic algorithms, which is an object of property rights and can perform circulation and accumulation functions.
REFERENCES
1. Rebryk M. Yake maibutnie chekaie na kryptovaliutu. NV Business. 22.09.2022. URL: https://biz.nv.ua/ukr/experts/chi-vizhive-kriptovalyuta-shcho-chekaye-na-bitkojin-ostanni-novini-50271410.html [in Ukrainian].
2. Xiao B., Wibawa T. China passes cryptography laws, laying framework for a national digital currency. ABC NEWS. 30.10.2019. URL: https://www.abc.net.au/news/2019-10-30/china-passes-cryptography-laws-national-digitalcurrency/11645984
3. Parker L. Bitcoin regulation overhaul in Japan. Bravenewcoin. 31.03.2017. URL: https://bravenewcoin.com/news/bitcoin-regulation-overhaul-in-japan/
4. Wright A., P. De Filippi. Decentralized Blockchain Technology and the Rise of Lex Cryptographia. SSRN. 15.03.2015. 58 p. https://doi.org/10.2139/ssrn.2580664
5. Egberts A. The Oracle Problem — An Analysis of how Blockchain Oracles Undermine the Advantages of Decentralized Ledger Systems. SSRN. 12.10.2017. https://doi.org/10.2139/ssrn.3382343
6. Bakalinska O., Chaplian S. Suspilnyi dohovir yak osnova dlia vynyknennia ta rozvytku kryptovaliut. Pidpryiemnytstvo, hospodarstvo i pravo. 2018. No. 6. P. 71-75 [in Ukrainian].
7. Dek A.O. Modeliuvannia povedinky ahentiv rynku kryptovaliut: dys. ... d-ra. filosofii: 051. Kharkiv. nats. un-t im. V.N. Karazina. Kharkiv, 2019. 195 p. [in Ukrainian].
8. Honcharenko O. Samorehulivni orhanizatsii u sferi tsyfrovoi ekonomiky. Pidpryiemnytstvo, hospodarstvo i pravo. 2020. No. 2. P. 93-97. https://doi.org/10.32849/2663-5313/2020.2.15 [in Ukrainian].
9. Hudima T., Ustymenko V., Dzhabrailov R., Chernykh O. Osoblyvosti pravovoho rehuliuvannia obihu virtualnykh aktyviv v Ukraini: de-fakto vs de-yure. Financial and Credit Activity Problems of Theory and Practice. 2022. Vol. 5. No. 46. P. 137-148. https://doi.org/10.55643/fcaptp.5.46.2022.3844 [in Ukrainian].
10. Derevianko B.V. Ekonomichna bezpeka derzhavy v konteksti vrehuliuvannia vidnosyn na rynku kryptovaliuty. V kn.: Ekonomichna bezpeka ta finansovi rozsliduvannia: kontsepty, prahmatyka, instrumentarii zabezpechennia. Za zah. red. O.I. Vivchar. Ternopil: Ekonomichna dumka, 2019. P. 289-309 [in Ukrainian].
11. Nekit K.H. Virtualni aktyvy yak riznovyd tsyfrovykh rechei. Chasopys tsyvilistyky. 2022. No. 45. P. 53-57. https://doi.org/10.32837/chc.v0i45.466 [in Ukrainian].
12. Holubieva N.Iu. Pravove rehuliuvannia kryptovaliut: chy na chasi? Chasopys tsyvilistyky. 2017. Iss. 26. P. 22-28.
13. Pylypyshyn S.S. Pravove zabezpechennia vykorystannia kryptovaliut yak zasobu platezhu v hospodarskykh vidnosynakh. Naukovyi visnyk Khersonskoho derzhavnoho universytetu. 2018. Iss. 1. Vol. 1. P. 96-99 [in Ukrainian].
14. Chaplian S. Pravovyi status kryptovaliut. Zovnishnia torhivlia: ekonomika, finansy, pravo. 2018. No. 2. P. 143-160 [in Ukrainian].
15. Chaplian S. Pravova pryroda kryptovaliut. Zovnishnia torhivlia: ekonomika, finansy, pravo. 2018. No. 4. P. 74-88 [in Ukrainian].
16. Spilna zaiava finansovykh rehuliatoriv shchodo statusu kryptovaliut v Ukraini. Ofitsiinyi sait Natsionalnoho banku Ukrainy. 30.11.2017. URL: https://bank.gov.ua/ua/news/all/spilna-zayava-finansovih-regulyatoriv-schodo-statusukriptovalyut-v-ukrayini [in Ukrainian].
17. Joint press statement by CNMV and Banco de España on "cryptocurrencies" and "initial coin offerings" (ICOs): CNMV. 08.02.2018. URL: http://www.cnmv.es/portal/verDoc.axd?t=%7B6f310cc7-6b39-4405-a8f7-70d2b1e682d1%7D
18. ESMA highlights ICO risks for investors and firms. ESMA. 13.11.2017. URL: https://www.esma.europa.eu/pressnews/esma-news/esma-highlights-ico-risks-investors-and-firms
19. Yak pratsiuie ukrainskyi rynok kryptovaliut i shcho za nei mozhna prydbaty. Juscutum. URL: https://juscutum.com/it-i-media-pravo/ua/tpost/4jj8r6ij71-yak-pratsyu-ukranskii-rinok-kriptovalyut [in Ukrainian].
20. Demianiuk M. Chomu potribno lehalizuvaty rynok virtualnykh aktyviv ta yaki mozhlyvosti tse vidkryie dlia ekonomiky. Ekonomichna pravda. 01.09.2020. URL: https://www.epravda.com.ua/columns/2020/09/1/664585/ [in Ukrainian].
21. Bhatt G. The future of money is undoubtedly digital. The question is, what will it look like? International Monetary Fund. September 2022. URL: https://www.imf.org/en/Publications/fandd/issues/2022/09/Editor-letter-Reimaginingmoney-in-the-age-of-crypto-and-central-bank-digital-currency
22. Podtserkovnyi O., Reznik N., Zghama A., Tsurkanu S., Kovalevych I. Problems of Cryptocurrency Transactions: Foreign Experience and Development Prospects in Ukraine. In: Alareeni, B., Hamdan, A., Elgedawy, I. (eds). The Importance of New Technologies and Entrepreneurship in Business Development: In The Context of Economic Diversity in Developing Countries. ICBT 2020. Lecture Notes in Networks and Systems, vol 194. Springer, Cham. https://doi.org/10.1007/978-3-030-69221-6_65
23. Atzori M. Blockchain Technology and Decentralized Governance: Is the State Still Necessary? SSRN. 01.12.2015. https://doi.org/10.2139/ssrn.2709713
24. Raphael Auer, Marc Farag, Ulf Lewrick, Lovrenc Orazem and Markus Zos Banking in the shadow of Bitcoin? The institutional adoption of cryptocurrencies. BIS Working Papers. № 1013. May 2022. URL: https://www.bis.org/publ/work1013.htm
25. Nagase T., Tanaka T., Fukui T. Blockchain & Cryptocurrency Laws and Regulations 2023: Japan. GLOBAL LEGAL INSIGHTS. URL: https://www.globallegalinsights.com/practice-areas/blockchain-laws-and-regulations/japan
26. Frankenfield J. Cryptocurrency Explained With Pros and Cons for Investment Updated. INVESTOPEDIA. 04.02.2023. URL: https://www.investopedia.com/terms/c/cryptocurrency.asp
27. Santiago F., Metil A., Podtserkovnyi O., Vozniakovska K., Oliukha V. Legal Aspects of Blockchain Technology Use. Journal of legal Ethical and Regulatory Issues. 2019. Vol. 22. Iss. 6. URL: https://www.abacademies.org/articles/legalaspects-of-blockchain-technology-use-8811.html
28. Kutsevol M.A., Shevchenko-Naumova O.A. Poniattia ta ekonomichna pryroda kryptovaliuty. Molodizhnyi ekonomichnyi daidzhest. 2015. No. 4. P. 79-85. URL: http://ir.kneu.edu.ua:8080/bitstream/2010/16391/1/79-85.pdf [in Ukrainian].
29. Rysin V.V., Rysin M.V., Fediuk I.V. Pravovyi status kryptovaliuty yak finansovoho instrumentu. Efektyvna ekonomika. 2018. No. 11. URL: http://www.economy.nayka.com.ua/?op=1&z=6647 [in Ukrainian].
30. Chaplian S.Ie. Hospodarsko-pravove rehuliuvannia emisii ta obihu elektronnykh zasobiv platezhu: dys. … d-ra filosofii: 081. Naukovo-doslid. ins-t pryvatnoho prava i pidpryiemnytstva im. akad. F.H. Burchaka. Kyiv, 2021. 225 p. [in Ukrainian].
31. Nykolaienko S. Tsyfrovi aktyvy ta yikh rol u rozvytku svitovoi ekonomiky. REPLYUA. 09.03.2020. URL: https://replyua.net/199357-cifrov-aktivi-ta-yih-rol-u-rozvitku-svtovoyi-ekonomki.html [in Ukrainian].
32. Proiekt Zakonu pro tokenizovani aktyvy ta kryptoaktyvy (reiestr. No. 4328 vid 05.11.2020). Ofitsiinyi vebportal Verkhovnoi Rady Ukrainy. URL: http://w1.c1.rada.gov.ua/pls/zweb2/webproc4_1?pf3511=70353 [in Ukrainian].
33. Zheliuk T., Brechko O. Vykorystannia kryptovaliuty na rynku platezhiv: novi mozhlyvosti dlia natsionalnykh ekonomik. Visnyk Ternopilskoho natsionalnoho ekonomichnoho universytetu. 2016. Iss. 3. P. 50-60 [in Ukrainian].
34. Kucheriavenko M.P., Bilinskyi D.O., Smychok Ye.M. Tsyfrovyi aktyv yak obiekt pravovoho rehuliuvannia: naukovopravovyi vysnovok. Natsionalna akademiia pravovykh nauk Ukrainy, 2019. 144 p. URL: https://information-resources.bitbon.space/pdf/naukovo-pravoviy-visnovok-cifrov-aktivi-yak-obkt-pravovogo-regulyuvannya.pdf?_ga=2.224197981.793354229.1676214821-1640263098.1676214821 [in Ukrainian].
35. Vald B. Spetsialni prava zapozychennia: shcho tse, yak ziavylysia ta yaku funktsiiu vykonuiut. UCAP. 06.07.2021. URL: https://ucap.io/sdr/ [in Ukrainian].
36. Podtserkovnyi O.P. Hroshovi zoboviazannia hospodarskoho kharakteru: problemy teorii i praktyky. Kyiv: Yustynian, 2006. 424 p. [in Ukrainian].
37. EBA opinion on "Virtual Currencies": EBA/Op/2014/08. 04.07.2014. URL: https://www.eba.europa.eu/sites/default/documents/files/documents/10180/657547/81409b94-4222-45d7-ba3b-7deb5863ab57/EBA-Op-2014-08%20Opinion%20on%20Virtual%20Currencies.pdf?retry=1
38. Shavaliuk L. Epokhalna zabavka. Chy ye maibutnie u kryptovaliut. Ukrainskyi Tyzhden. 31.10.2017. URL: https://tyzhden.ua/epokhalna-zabavka-chy-ie-majbutnie-u-kryptovaliut/ [in Ukrainian].
39. Altman D. NFT: shcho tse take i yak pratsiuie. Bazilik. 17.03.2021. URL: https://bazilik.media/nft-shcho-tse-takei-iak-pratsiuie/ [in Ukrainian].
40. Davydova N.O. Osobysti nemainovi prava: Navch. posib. dlia stud. vyshch. navch. zakl. Kyiv: In Yure, 2008. 160 p. [in Ukrainian].
41. Kokhanovska O.V. Informatsiia yak nematerialne blaho ta zakhyst informatsiinykh prav zghidno z Tsyvilnym kodeksom Ukrainy. Ofitsiinyi vebsait Verkhovnoho Sudu Ukrainy. URL: https://www.viaduk.net/clients/vsu/vsu.nsf/(documents)/6700A809B011484FC2257B7B004D77FF [in Ukrainian].
42. Zelenko I.P. Pidstavy klasyfikatsii fiktsii. Visnyk universytetu imeni Alfreda Nobelia. Seriia: Pravo. 2020. No. 1 (1). P. 13-17. https://doi.org/10.32342/2709-6408-2020-1-1-2 [in Ukrainian].
43. Yaslyk V.I., Hatala I.Iu. Pravovi fiktsii v zakonodavstvi: teoretyko-prykladnyi aspekt. Yurydychnyi naukovyi elektronnyi zhurnal. 2021. No. 11. P. 834-837. https://doi.org/10.32782/2524-0374/2021-11/212 [in Ukrainian].
44. FATF REPORT Virtual Currencies Key Definitions and Potential AML/CFT Risks. FATF-GAFI. June 2014. URL: https://www.fatf-gafi.org/content/dam/fatf/documents/reports/Virtual-currency-key-definitions-and-potentialaml-cft-risks.pdf.coredownload.pdf
45. Isaiev A. Pravo vlasnosti na hroshi. Pravo Ukrainy. 2021. No. 5. P. 119-134. https://doi.org/10.33498/louu-2021-05-119 [in Ukrainian].
Keywords
ryptocurrencies, virtual assets, digital currencies legal fiction, economic circulation, electronic money
Downloads
Download data is not yet available.
References
1. Ребрик М. Яке майбутнє чекає на криптовалюту. NV Business. 22.09.2022. URL: https://biz.nv.ua/ukr/experts/chi-vizhive-kriptovalyuta-shcho-chekaye-na-bitkojin-ostanni-novini-50271410.html (дата звернення: 01.01.2023).

2. Xiao B., Wibawa T. China passes cryptography laws, laying framework for a national digital currency. ABC NEWS. 30.10.2019. URL: https://www.abc.net.au/news/2019-10-30/china-passes-cryptography-laws-national-digitalcurrency/11645984 (дата звернення: 10.01.2023).

3. Parker L. Bitcoin regulation overhaul in Japan. Bravenewcoin. 31.03.2017. URL: https://bravenewcoin.com/news/bitcoin-regulation-overhaul-in-japan/ (дата звернення: 10.09.2022).

4. Wright A., P. De Filippi. Decentralized Blockchain Technology and the Rise of Lex Cryptographia. SSRN. 15.03.2015. 58 p. https://doi.org/10.2139/ssrn.2580664

5. Egberts A. The Oracle Problem — An Analysis of how Blockchain Oracles Undermine the Advantages of Decentralized Ledger Systems. SSRN. 12.10.2017. https://doi.org/10.2139/ssrn.3382343

6. Бакалінська О., Чаплян С. Суспільний договір як основа для виникнення та розвитку криптовалют. Підприємництво, господарство і право. 2018. № 6. С. 71—75.

7. Дек А.О. Моделювання поведінки агентів ринку криптовалют: дис. ... д-ра філософії: 051. Харків. нац. ун-т ім. В.Н. Каразіна. Харків, 2019. 195 с.

8. Гончаренко О. Саморегулівні організації у сфері цифрової економіки. Підприємництво, господарство і право. 2020. № 2. С. 93—97. https://doi.org/10.32849/2663-5313/2020.2.15

9. Гудіма Т., Устименко В., Джабраілов Р., Черних О. Особливості правового регулювання обігу віртуальних активів в Україні: де-факто vs де-юре. Financial and Credit Activity Problems of Theory and Practice. 2022. Vol. 5. № 46. P. 137—148. https://doi.org/10.55643/fcaptp.5.46.2022.3844

10. Деревянко Б.В. Економічна безпека держави в контексті врегулювання відносин на ринку криптовалюти. В кн.: Економічна безпека та фінансові розслідування: концепти, прагматика, інструментарій забезпечення. За заг. ред. О.І. Вівчар. Тернопіль: Економічна думка, 2019. С. 289—309.

11. Некіт К.Г. Віртуальні активи як різновид цифрових речей. Часопис цивілістики. 2022. № 45. С. 53—57. https://doi.org/10.32837/chc.v0i45.466

12. Голубєва Н.Ю. Правове регулювання криптовалют: чи на часі? Часопис цивілістики. 2017. Вип. 26. С. 22—28.

13. Пилипишин С.С. Правове забезпечення використання криптовалют як засобу платежу в господарських відносинах. Науковий вісник Херсонського державного університету. 2018. Вип. 1. Т. 1. С. 96—99.

14. Чаплян С. Правовий статус криптовалют. Зовнішня торгівля: економіка, фінанси, право. 2018. № 2. С. 143—160.

15. Чаплян С. Правова природа криптовалют. Зовнішня торгівля: економіка, фінанси, право. 2018. № 4. С. 74—88.

16. Спільна заява фінансових регуляторів щодо статусу криптовалют в Україні. Офіційний сайт Національного банку України. 30.11.2017. URL: https://bank.gov.ua/ua/news/all/spilna-zayava-finansovih-regulyatoriv-schodostatusu-kriptovalyut-v-ukrayini (дата звернення: 12.12.2022).

17. Joint press statement by CNMV and Banco de España on «cryptocurrencies» and «initial coin offerings» (ICOs): CNMV. 08.02.2018. URL: http://www.cnmv.es/portal/verDoc.axd?t=%7B6f310cc7-6b39-4405-a8f7-70d2b1e682d1%7D (дата звернення: 10.12.2022).

18. ESMA highlights ICO risks for investors and firms. ESMA. 13.11.2017. URL: https://www.esma.europa.eu/pressnews/esma-news/esma-highlights-ico-risks-investors-and-firms (дата звернення: 12.12.2022).

19. Як працює український ринок криптовалют і що за неї можна придбати. Juscutum. URL: https://juscutum.com/it-i-media-pravo/ua/tpost/4jj8r6ij71-yak-pratsyu-ukranskii-rinok-kriptovalyut (дата звернення: 12.12.2022).

20. Дем'янюк М. Чому потрібно легалізувати ринок віртуальних активів та які можливості це відкриє для економіки. Економічна правда. 01.09.2020. URL: https://www.epravda.com.ua/columns/2020/09/1/664585/ (дата звернення: 12.12.2022).

21. Bhatt G. The future of money is undoubtedly digital. The question is, what will it look like? International Monetary Fund. September 2022. URL: https://www.imf.org/en/Publications/fandd/issues/2022/09/Editor-letter-Reimaginingmoney-in-the-age-of-crypto-and-central-bank-digital-currency (дата звернення: 12.12.2022).

22. Podtserkovnyi O., Reznik N., Zghama A., Tsurkanu S., Kovalevych I. Problems of Cryptocurrency Transactions: Foreign Experience and Development Prospects in Ukraine. In: Alareeni, B., Hamdan, A., Elgedawy, I. (eds). The Importance of New Technologies and Entrepreneurship in Business Development: In The Context of Economic Diversity in Developing Countries. ICBT 2020. Lecture Notes in Networks and Systems, vol 194. Springer, Cham. https://doi.org/10.1007/978-3-030-69221-6_65

23. Atzori M. Blockchain Technology and Decentralized Governance: Is the State Still Necessary? SSRN. 01.12.2015. https://doi.org/10.2139/ssrn.2709713

24. Raphael Auer, Marc Farag, Ulf Lewrick, Lovrenc Orazem and Markus Zos Banking in the shadow of Bitcoin? The institutional adoption of cryptocurrencies. BIS Working Papers. № 1013. May 2022. URL: https://www.bis.org/publ/work1013.htm (дата звернення: 12.12.2022).

25. Nagase T., Tanaka T., Fukui T. Blockchain & Cryptocurrency Laws and Regulations 2023: Japan. GLOBAL LEGAL INSIGHTS. URL: https://www.globallegalinsights.com/practice-areas/blockchain-laws-and-regulations/japan (дата звернення: 02.02.2023).

26. Frankenfield J. Cryptocurrency Explained With Pros and Cons for Investment Updated. INVESTOPEDIA. 04.02.2023. URL: https://www.investopedia.com/terms/c/cryptocurrency.asp (дата звернення: 04.02.2023).

27. Santiago F., Metil A., Podtserkovnyi O., Vozniakovska K., Oliukha V. Legal Aspects of Blockchain Technology Use. Jornal of legal Ethical and Regulatory Issues. 2019. Vol. 22. Iss. 6. URL: https://www.abacademies.org/articles/legalaspects-of-blockchain-technology-use-8811.html (дата звернення: 04.02.2023).

28. Куцевол М.А., Шевченко-Наумова О.А. Поняття та економічна природа криптовалюти. Молодіжний економічний дайджест. 2015. № 4. С. 79—85. URL: http://ir.kneu.edu.ua:8080/bitstream/2010/16391/1/79-85.pdf (дата звернення: 04.02.2023).

29. Рисін В.В., Рисін М.В., Федюк І.В. Правовий статус криптовалюти як фінансового інструменту. Ефективна економіка. 2018. № 11. URL: http://www.economy.nayka.com.ua/?op=1&z=6647 (дата звернення: 12.12.2022).

30. Чаплян С.Є. Господарсько-правове регулювання емісії та обігу електронних засобів платежу: дис. … д-ра філософії: 081. Науково-дослід. інс-т приватного права і підприємництва ім. акад. Ф.Г. Бурчака. Київ, 2021. 225 с.

31. Николаєнко С. Цифрові активи та їх роль у розвитку світової економіки. REPLYUA. 09.03.2020. URL: https://replyua.net/199357-cifrov-aktivi-ta-yih-rol-u-rozvitku-svtovoyi-ekonomki.html (дата звернення: 12.12.2022).

32. Проєкт Закону про токенізовані активи та криптоактиви (реєстр. № 4328 від 05.11.2020). Офіційний вебпортал Верховної Ради України. URL: http://w1.c1.rada.gov.ua/pls/zweb2/webproc4_1?pf3511=70353 (дата звернення: 12.12.2022).

33. Желюк Т., Бречко О. Використання криптовалюти на ринку платежів: нові можливості для національних економік. Вісник Тернопільського національного економічного університету. 2016. Вип. 3. С. 50—60.

34. Кучерявенко М.П., Білінський Д.О., Смичок Є.М. Цифровий актив як об'єкт правового регулювання: науково-правовий висновок. Національна академія правових наук України, 2019. 144 с. URL: https://information-resources.bitbon.space/pdf/naukovo-pravoviy-visnovok-cifrov-aktivi-yak-obkt-pravovogoregulyuvannya.pdf?_ga=2.224197981.793354229.1676214821-1640263098.1676214821 (дата звернення: 12.12.2022).

35. Вальд Б. Спеціальні права запозичення: що це, як з'явилися та яку функцію виконують. UCAP. 06.07.2021. URL: https://ucap.io/sdr/ (дата звернення: 12.12.2022).

36. Подцерковний О.П. Грошові зобов'язання господарського характеру: проблеми теорії і практики. Київ: Юстиніан, 2006. 424 с.

37. EBA opinion on «Virtual Currencies»: EBA/Op/2014/08. 04.07.2014. URL: https://www.eba.europa.eu/sites/default/documents/files/documents/10180/657547/81409b94-4222-45d7-ba3b-7deb5863ab57/EBA-Op-2014-08%20Opinion%20on%20Virtual%20Currencies.pdf?retry=1 (дата звернення: 12.12.2022).

38. Шавалюк Л. Епохальна забавка. Чи є майбутнє у криптовалют. Український Тиждень. 31.10.2017. URL: https://tyzhden.ua/epokhalna-zabavka-chy-ie-majbutnie-u-kryptovaliut/ (дата звернення: 12.12.2022).

39. Альтман Д. NFT: що це таке і як працює. Bazilik. 17.03.2021. URL: https://bazilik.media/nft-shcho-tse-take-iiak-pratsiuie/ (дата звернення: 12.12.2022).

40. Давидова Н.О. Особисті немайнові права: Навч. посіб. для студ. вищ. навч. закл. Київ: Ін Юре, 2008. 160 с.

41. Кохановська О.В. Інформація як нематеріальне благо та захист інформаційних прав згідно з Цивільним кодексом України. Офіційний вебсайт Верховного Суду України. URL: https://www.viaduk.net/clients/vsu/vsu.nsf/(documents)/6700A809B011484FC2257B7B004D77FF (дата звернення: 12.12.2022).

42. Зеленко І.П. Підстави класифікації фікцій. Вісник університету імені Альфреда Нобеля. Серія: Право. 2020. № 1 (1). C. 13—17. https://doi.org/10.32342/2709-6408-2020-1-1-2

43. Яслик В.І., Гатала І.Ю. Правові фікції в законодавстві: теоретико-прикладний аспект. Юридичний науковий електронний журнал. 2021. № 11. С. 834—837. https://doi.org/10.32782/2524-0374/2021-11/212

44. FATF REPORT Virtual Currencies Key Definitions and Potential AML/CFT Risks. FATF-GAFI. June 2014. URL:
https://www.fatf-gafi.org/content/dam/fatf/documents/reports/Virtual-currency-key-definitions-and-potentialaml-cft-risks.pdf.coredownload.pdf

45. Ісаєв А. Право власності на гроші. Право України. 2021. № 5. С. 119—134. https://doi.org/10.33498/louu-2021-05-119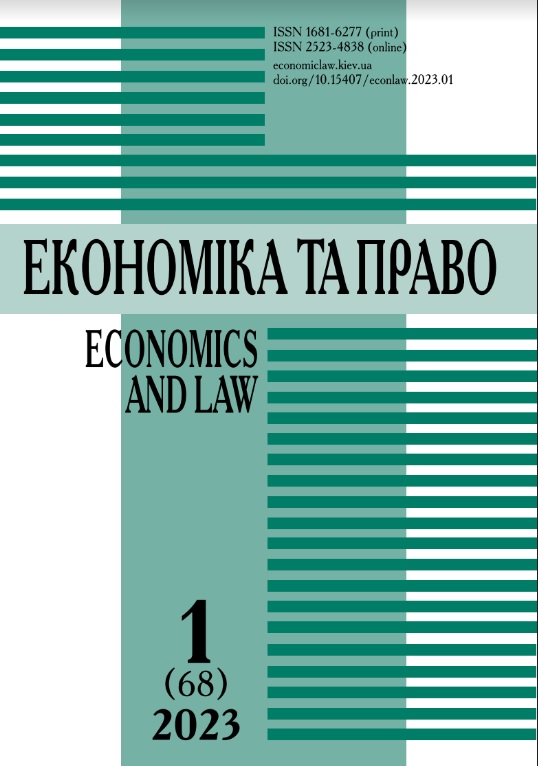 Abstract views: 103 PDF Downloads: 54