LEGAL NATURE OF A SMART-CONTRACT AND ISSUES OF ITS APPLICATION IN THE FIELD OF DIGITAL ASSETS
Section "Law": Тheoretical and Practical Issues of Development of the Law System of Ukraine
Abstract
The article looks into the concept and legal nature of smart contracts, as well as the issues that arise during the use of smart contracts in the field of digital assets. The technical and legal aspects of the concept of a smart contract are considered. Models of use of smart contracts are described. Scientific and legislative approaches to determining the legal nature of smart contracts are presented. The dual legal nature of a legal smart contract is analyzed: as a form of transaction and an object of copyright. Some issues in the field of protection of the rights of smart contract parties are considered. Based on the findings, temporary solutions in the field of using smart contracts are proposed.
REFERENCES
1. Alabi F. Taking Contracting Digital: Examination of the Smart Contracts Experiment. SSRN. 10.08.2017. 22 p. http://dx.doi.org/10.2139/ssrn.3015843
2. Baranov O.A. Internet rechei (IoT): pravovi problemy zastosuvannia rozumnykh kontraktiv. Informatsiia i pravo. 2017. No. 4 (23). P. 26-40 [in Ukrainian].
3. Szabo N. The idea of smart contracts. 1997. URL: https://www.fon.hum.uva.nl/rob/Courses/InformationInSpeech/CDROM/Literature/LOTwinterschool2006/szabo.best.vwh.net/idea.html
4. Smart contracts and distributed ledger — a legal perspective. ISDA Linklaters Whitepaper. 03.08.2017. 23 p. URL: https://www.isda.org/a/6EKDE/smart-contracts-and-distributed-ledger-a-legal-perspective.pdf
5. Grin' O.S., Grin' E.S., Solov'ev A.V. Pravovaja konstrukcija smart-kontrakta: juridicheskaja priroda i sfera primenenija. Lex russica. 2019. No. 8 (153). P. 51-62 [in Russian].
6. Bogdanova E.E. Problemy primenenija smart-kontraktov v sdelkah s virtual'nym imushhestvom. Lex russica. 2019. No. 7 (152). P. 108-118 [in Russian].
7. Novoselova L. "Tokenizacija" objektov grazhdanskogo prava. Hozjajstvo i pravo. 2017. No. 12. P. 29-44 [in Russian].
8. Vashkevich A.A. Smart-kontrakty: chto, zachem i kak. Moscow: Simploer, 2018. 89 p. [in Russian].
9. Savel'ev A.I. Dogovornoe pravo 2.0: "umnye kontrakty" kak nachalo konca klassicheskogo dogovornogo prava. Vestnik grazhdanskogo prava. 2016. No. 3. P. 32-60 [in Russian].
10. Efimova L.G., Sizemova O.B. Pravovaja priroda smart-kontrakta. Bankovskoe pravo. 2019. No. 1. P. 23-30 [in Russian].
11. Somova E.V. Smart-kontrakt v dogovornom prave. Zhurnal zarubezhnogo zakonodatel'stva i sravnitel'nogo pravovedenija. 2019. No. 2. P. 79-86 [in Russian].
12. Tjul'kanov A. Smart-kontrakty — dogovory ili tehnicheskie sredstva? URL: https://zakon.ru/blog/2017/4/7/smartkontrakty__dogovory_ili_tehnicheskie_sredstva [in Russian].
13. Mitrofanova I.A. Zakonodatel'noe regulirovanie "umnyh" kontraktov: problemy i perspektivy razvitija. Pravovaja paradigma. 2018. No. 4 (17). P. 22-28 [in Russian].
14. Kirillova E.A., Bogdan V.V., Lagutin I.B., Gorevoy E.D. Legal status of smart contracts: features, role, significance. Juridicas Cuc. 2019. No. 15 (1). Рp. 285-300. https://doi.org/10.17981/juridcuc.15.1.2019.11
15. Tasca P. Digital Currencies: Principles, Trends, Opportunities, and Risks. SSRN. 07.09.2015. 110 p. http://dx.doi.org/10.2139/ssrn.2657598
16. Mukherjee A. Smart Contracts – Another Feather in UNCITRAL's Cap'. Cornell International Law Journal. Vol. 6. 08.02.2018. URL: https://cornellilj.org/2018/02/08/smart-contracts-another-feather-in-uncitrals-cap/
17. De Caria R. The Legal Meaning of Smart Contracts. European Review of Private Law. European Review of Private Law. 2018. Vol. 26. Iss. 6. P. 731–751. https://doi.org/10.54648/erpl2018052
18. Lukojanov N.V. Pravovye aspekty zakljuchenija, izmenenija i prekrashhenija smart-kontraktov. Juridicheskie issledovanija. 2018. No. 11. P. 28-35 [in Russian].
19. Tjul'kanov A. Blokchejnu — net, smart-kontraktam — da: zakonodateli Nevady opredelilis' s ponjatijami. Zakon.ru. 2017. URL: https://zakon.ru/blog/2017/06/19/blokchejnu_-_da_smart-kontraktam_-_net_zakonodateli_nevady_opredelilis_s_ponyatiyami [in Russian].
20. UK Law Commission. Thirteenth Program of Law Reform. 2017. URL: https://s3-eu-west-2.amazonaws.com/lawcomprod-storage-11jsxou24uy7q/uploads/2017/12/13th-Programme-of-Law-Reform.pdf
21. Law Commission to review treatment of smart contracts & digital assets. Simmons+Simmons. 29.10.2022. URL: https://www.simmons-simmons.com/en/publications/ckgv30cctoxie0951t4x3h8z9/law-commission-to-reviewtreatment-of-smart-contracts-digital-assets
22. Chub D.V. Pravovoe regulirovanie smart-kontraktov vo Francii. Aktual'nye problemy rossijskogo prava. 2019. No. 8 (105). P. 151-157 [in Russian].
23. Tomarov I. Avtorskoe pravo na dokumenty, sozdannye juristom. Legal Shift. 26.03.2017. URL: http://www.legalshift.com.ua/?p=856 [in Russian].
24. Digital and Digitized Assets: Federal and State Jurisdictional Issues. American Bar Association, Derivatives and Futures Law Committee, Innovative Digital Products and Processes Subcommittee, Jurisdiction Working Group. December 2020. 403 p. URL: https://www.americanbar.org/content/dam/aba/administrative/business_law/buslaw/committees/CL620000pub/digital_assets.pdf
25. Kardonov A. Sfery primenenija smart-kontraktov i riski pri rabote s nimi. Biznes obrazovanie v jekonomike znanij. 2018. No. 1. P. 44-47 [in Russian].
26. Jagubova U.R. Problemy primenenija norm dogovornogo prava k smart-kontraktam, osushhestvljaemym v informacionnoj platforme blokchejn (blockchain). Vestnik sovremennyh issledovanij. 2018. No. 4-1. P. 394-396 [in Russian].
27. Zimneva S.V., Luk'janenko M.F. Dobrosovestnost' i razumnost' povedenija kak osnovanie osvobozhdenija ot grazhdansko-pravovoj otvetstvennosti. Gosudarstvo i pravo. 2017. No. 8. P. 42-49 [in Russian].
28. Mik E. Smart Contracts: terminology, technical limitations and real world complexity. Law, Innovation & Technology. 2017. No. 9. P. 8-12.
29. Nekit K.H. Perevahy ta nedoliky smart-kontraktiv yak pidstav vynyknennia prava vlasnosti. Visnyk Natsionalnoho tekhnichnoho universytetu Ukrainy "Kyivskyi politekhnichnyi instytut". Politolohiia. Sotsiolohiia. Pravo. 2020. No. 3 (47). P. 101-105. https://doi.org/10.20535/2308-5053.2020.3(47).229494
Keywords
smart contract, digital assets, software code, contract, contract form, transaction
Downloads
Download data is not yet available.
References
1. Alabi F. Taking Contracting Digital: Examination of the Smart Contracts Experiment. SSRN. 10.08.2017. 22 p. http://dx.doi.org/10.2139/ssrn.3015843

2. Баранов О.А. Інтернет речей (IoT): правові проблеми застосування розумних контрактів. Інформація і право. 2017. № 4 (23). С. 26—40.

3. Szabo N. The idea of smart contracts. 1997. URL: https://www.fon.hum.uva.nl/rob/Courses/InformationInSpeech/CDROM/Literature/LOTwinterschool2006/szabo.best.vwh.net/idea.html (дата звернення: 10.01.2023).

4. Smart contracts and distributed ledger — a legal perspective. ISDA Linklaters Whitepaper. 03.08.2017. 23 p. URL: https://www.isda.org/a/6EKDE/smart-contracts-and-distributed-ledger-a-legal-perspective.pdf (дата звернення: 10.01.2023).

5. Гринь О.С., Гринь Е.С., Соловьев А.В. Правовая конструкция смарт-контракта: юридическая природа и сфера применения. Lex russica. 2019. № 8 (153). С. 51—62.

6. Богданова Е.Е. Проблемы применения смарт-контрактов в сделках с виртуальным имуществом. Lex russica. 2019. № 7 (152). С. 108—118.

7. Новоселова Л. «Токенизация» объектов гражданского права. Хозяйство и право. 2017. № 12. С. 29—44.

8. Вашкевич А.А. Смарт-контракты: что, зачем и как. Москва: Симплоер, 2018. 89 c.

9. Савельев А.И. Договорное право 2.0: «умные контракты» как начало конца классического договорного права. Вестник гражданского права. 2016. № 3. С. 32—60.

10. Ефимова Л.Г., Сиземова О.Б. Правовая природа смарт-контракта. Банковское право. 2019. № 1. С. 23—30.

11. Сомова Е.В. Смарт-контракт в договорном праве. Журнал зарубежного законодательства и сравнительного правоведения. 2019. № 2. С. 79—86.

12. Тюльканов А. Смарт-контракты — договоры или технические средства? URL: https://zakon.ru/blog/2017/4/7/smart-kontrakty__dogovory_ili_tehnicheskie_sredstva (дата звернення: 10.01.2023).

13. Митрофанова И.А. Законодательное регулирование «умных» контрактов: проблемы и перспективы развития. Правовая парадигма. 2018. № 4 (17). С. 22—28.

14. Kirillova E.A., Bogdan V.V., Lagutin I.B., Gorevoy E.D. Legal status of smart contracts: features, role, significance. Juridicas Cuc. 2019. № 15 (1). Рp. 285—300. https://doi.org/10.17981/juridcuc.15.1.2019.11

15. Tasca P. Digital Currencies: Principles, Trends, Opportunities, and Risks. SSRN. 07.09.2015. 110 p. http://dx.doi.org/10.2139/ssrn.2657598

16. Mukherjee A. Smart Contracts – Another Feather in UNCITRAL's Cap'. Cornell International Law Journal. Vol. 6. 08.02.2018. URL: https://cornellilj.org/2018/02/08/smart-contracts-another-feather-in-uncitrals-cap/ (дата звернення: 10.01.2023).

17. De Caria R. The Legal Meaning of Smart Contracts. European Review of Private Law. European Review of Private Law. 2018. Vol. 26. Iss. 6. P. 731—751. https://doi.org/10.54648/erpl2018052

18. Лукоянов Н.В. Правовые аспекты заключения, изменения и прекращения смарт-контрактов. Юридические исследования. 2018. № 11. С. 28—35.

19. Тюльканов А. Блокчейну — нет, смарт-контрактам — да: законодатели Невады определились с понятиями. Zakon.ru. 2017. URL: https://zakon.ru/blog/2017/06/19/blokchejnu_-_da_smart-kontraktam_-_net_zakonodateli_nevady_opredelilis_s_ponyatiyami (дата звернення: 10.01.2023).

20. UK Law Commission. Thirteenth Program of Law Reform. 2017. URL: https://s3-eu-west-2.amazonaws.com/lawcomprod-storage-11jsxou24uy7q/uploads/2017/12/13th-Programme-of-Law-Reform.pdf (дата звернення: 10.01.2023).

21. Law Commission to review treatment of smart contracts & digital assets. Simmons+Simmons. 29.10.2022. URL: https://www.simmons-simmons.com/en/publications/ckgv30cctoxie0951t4x3h8z9/law-commission-to-reviewtreatment-of-smart-contracts-digital-assets (дата звернення: 10.01.2023).

22. Чуб Д.В. Правовое регулирование смарт-контрактов во Франции. Актуальные проблемы российского права. 2019. № 8 (105). С. 151—157.

23. Томаров И. Авторское право на документы, созданные юристом. Legal Shift. 26.03.2017. URL: http://www.legalshift.com.ua/?p=856 (дата звернення: 10.01.2023).

24. Digital and Digitized Assets: Federal and State Jurisdictional Issues. American Bar Association, Derivatives and Futures Law Committee, Innovative Digital Products and Processes Subcommittee, Jurisdiction Working Group. December 2020. 403 p. URL: https://www.americanbar.org/content/dam/aba/administrative/business_law/buslaw/committees/CL620000pub/digital_assets.pdf (дата звернення: 10.01.2023).

25. Кардонов А. Сферы применения смарт-контрактов и риски при работе с ними. Бизнес образование в экономике знаний. 2018. № 1. С. 44—47.

26. Ягубова У.Р. Проблемы применения норм договорного права к смарт-контрактам, осуществляемым в информационной платформе блокчейн (blockchain). Вестник современных исследований. 2018. № 4-1. С. 394—396.

27. Зимнева С.В., Лукьяненко М.Ф. Добросовестность и разумность поведения как основание освобождения от гражданско-правовой ответственности. Государство и право. 2017. № 8. С. 42—49.

28. Mik E. Smart Contracts: terminology, technical limitations and real world complexity. Law, Innovation & Technology. 2017. № 9. P. 8—12.

29. Некіт К.Г. Переваги та недоліки смарт-контрактів як підстав виникнення права власності. Вісник Національного технічного університету України «Київський політехнічний інститут». Політологія. Соціологія. Право. 2020. №. 3 (47). С. 101—105. https://doi.org/10.20535/2308-5053.2020.3(47).229494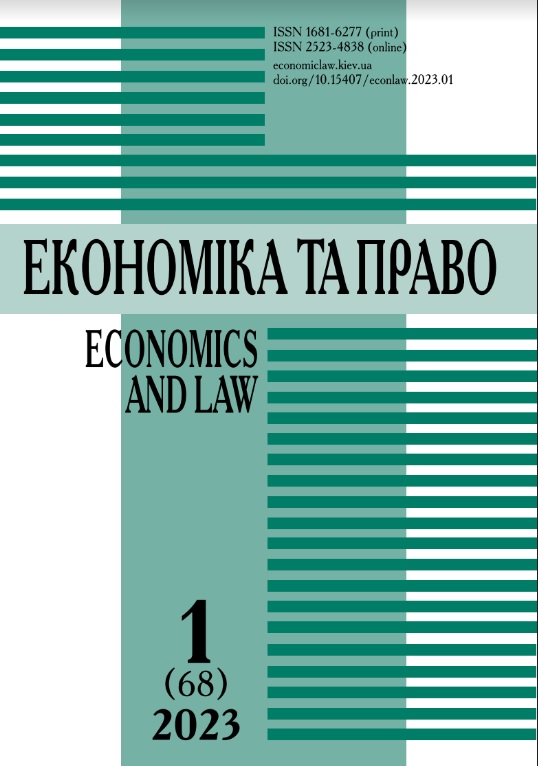 Abstract views: 35 PDF Downloads: 4