TAX ADMINISTRATION IS THE WAY OF ECONOMIC SECURITY ENSURING OF REGION
Series "Economy": Socio-economic problems of regional development
V.I. Chizh

The East Ukrainian National University named after Volodymyr Dahl, Severodonetsk
Abstract
The article substantiates the necessity of tax administration usage in the regions, in the conditions of power decentralization, to ensure the economic security of region. The difference between the tax administration and regional government tax administration are set. The definition of this administration is defined and its concept is developed.
REFERENCES
1. Kuznecov N.G., Korsun T.I. and Aleksandrova I.Ju. (2002), Nalogovoe administrirovanie: teorija i strategija [Tax administration: theory and strategy], RGJeU (RINH), Rostov-on-Don, Russia.
2. Olejnikov E.A. (ed) (2007), Osnovy jekonomicheskoj bezopasnosti. (Gosudarstvo, region, predprijatie, lichnost') [Bases of economic security. (State, region, enterprise, personality)], ZAO Biznes-shkola "Intel-Sintez", Moscow, Russia.
3. Timofeeva I.Ju. (2011) Osnovy nalogovoj bezopasnosti gosudarstva, biznesa i obshhestva: koncepcija i metodologija [Bases of tax safety of the state, business and society: conception and methodology], Universum, Smolensk, Russia.
4. Yermoshenko M.M. (2001), Finansova bezpeka derzhavy: natsional'ni interesy, real'ni zahrozy, stratehiia zabezpe chennia [Financial safety of the state: national interests, real threats, strategy of providing], KNTEU, Kyiv, Ukraine.
5. Kozachenko A.V., Ponomar'ov V. P. and Ljashenko A.N. (2003), Jekonomicheskaja bezopasnost' predprijatija: sushhnost' i mehanizm obespechenija: [monografija] [Economic security of enterprise: essence and mechanism of providing: [monograph]], Libra, Kyiv, Ukraine.
6. Heiets' V.M. (ed) (2009), Kontseptsiia ekonomichnoi bezpeky Ukrainy [Conception of economic security of Ukraine], Lohos, Kyiv, Ukraine.
7. The Verkhovna Rada of Ukraine (2014), Fiscal code of Ukraine, Visnyk Ministerstva dokhodiv i zboriv, vol. 2-3, pp. 430
Keywords
region, tax system, tax administration, economic security
Downloads
Download data is not yet available.
References
1. Кузнєцов Н.Г. Налоговое администрирование: теория и стратегия / Н.Г. Кузнецов, Т.И. Корсун, И.Ю. Александрова. — Ростов-н/Д. : РГЭУ (РИНХ), 2002. — 295 с.

2. Основы экономической безопасности (государство, регион, предприятие, личность) / ред. Е.А. Олейникова. — М. : Бизнес-школа "Интел-Синтез", 2007. — 288 с.

3. Тимофеева И.Ю. Основы налоговой безопасности государства, бизнеса и общества: концепция и методология / И.Ю. Тимофеева. — Смоленск : Универсум, 2011. — 384 с.

4. Єрмошенко М.М. Фінансова безпека держави: національні інтереси, реальні загрози, стратегія забезпечення / М.М. Єрмошенко. — К. : Вид-во Нац. торг.-екон. ун-ту, 2001. — 309 с.

5. Козаченко А.В. Экономическая безопасность предприятия: сущность и механизм обеспечения : [монография] / Козаченко А.В., Пономарев В.П., Ляшенко А.Н. — К. : Либра, 2003. — 280 с.

6. Концепція економічної безпеки України / Ін-т екон. прогнозування; кер. проекту В.М. Геєць. — К. : Логос, 2009. — 56 с.

7. Податковий кодекс України // Вісник Міністерства доходів і зборів. — 2014. — № 2—3. — 430 с.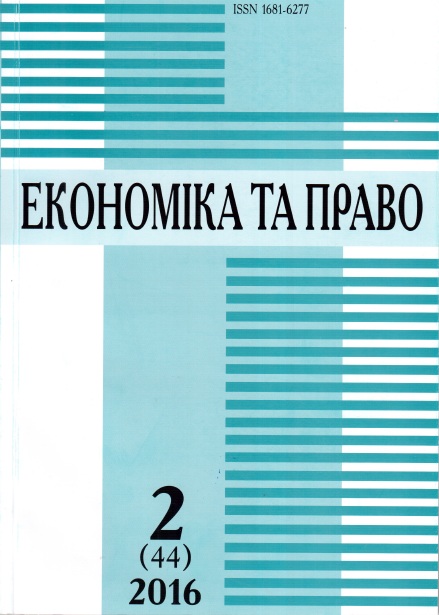 Abstract views: 181 PDF Downloads: 576