HUMAN RESOURCE MANAGEMENT AS A BASIS FOR ECONOMIC DEVELOPMENT OF THE ENTERPRISE
Series "Economy": Labor Economics and Social Policy
Abstract
The article substantiates the necessity to create quality human resources as a priority direction of development of enterprises in the context of globalization, intellectualization and dissemination of innovative technologies. The process of transformation, the role and place of man in the production and in providing strategic advantages of the company had been analyzed. Theoretical analysis of the socio-economic category of "human resources" was made in the article. The author determined factors that influence the growth of the role of human resources management in companies. The conclusion is that the theory of investment in human capital needs to be strengthened.
Keywords
human resources management, model of economic growth, investment, human capital
Downloads
Download data is not yet available.
References
1. Grabovetsky B. E. (2009), Productionfunctions: Theory, construction, use in production management: monograph, Universum, Vinnitsa, Ukraine.

2. Marx К. and Engels F. (2009), Works, 2nd ed, T. 23, Progress, Kyiv, Ukraine.

3. Dolishniy M.I. (2009), Social and psychological components of labor potential, Demographic aspects of labor potential reproduction, vol. 3, pp. 87-91.

4. Pityulych M.I., Biben M.I. and Miklovda V.V. (2009), Employment potential of the region, development strategy and operation, Karpaty, Uzhgorod, Ukraine.

5. Khlopova T. (2009), Development of employment and competitiveness bulding workers in modern conditions, BGUEP Publishing House, Irkutsk, Russia.

6. Schultz T.W. (1971), Investment in Human Capital, The American EconomicRevier, vol. 51, pp. 1-17.

7. Becker G.S. (1994), Investment in Human capital: A Theor etical and Empirical Analysis, Journal of Political Economy, vol. 70, pp.9-49.

8. Hoishnova O.A. (2009), Humancapital: formation in education and training, Knowledge, Kyiv, Ukraine.

9. Odegova G. (2009), Economystaff. Theory: textbook, P.І, AlphaPress, Moscow, Russia.

10. Korotkov E. M. (2010), Concept of Management: textbook, IKK Deca, Moscow, Russia.

11. Kryzhko I.D., Bogdanova T.I., Vedernikov M.D., (1999), Formation of professional human resources officer structure: monograph, SPE Eureka, Khmelnitsky, Ukraine.

12. Schekyn G.V. (1999), Theory and practice of management personnel: ucheb. method, posob, 2nd ed, MAUs, Kyiv, Ukraine.

13. Revina O.M. (2015), Organizational-economic bases of management of human potential of rail transport in terms of intellectualization ekonomy, Abstract of Sc. Ec. dissertation, Economics and Enterprise Management, State Economy and Technology University of Transport, Kyiv, Ukraine.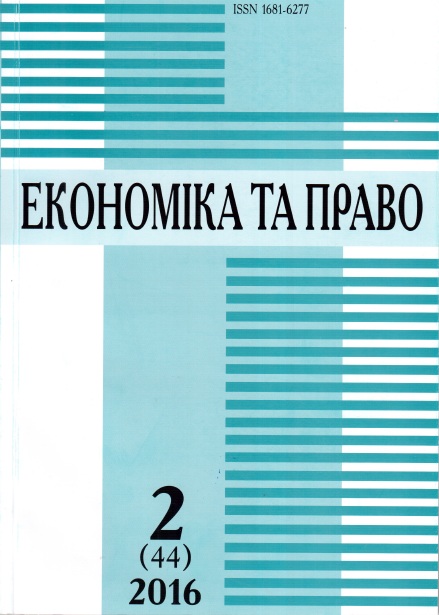 Abstract views: 156 PDF Downloads: 548