TRANSFORMATION OF CONCEPTUAL APPROACHES TO MANAGING THE DEVELOPMENT OF CHEMICAL INDUSTRY WITHIN THE NEO-INDUSTRIALIZATION CONTEXT
Series "Economy": Economic and legal issues of sustainable development
G.Z. Shevtsova

The Institute of the Economy of Industry of the NAS of Ukraine, Kyiv
Abstract
This article analyzes changes in the conceptual approaches to managing the development of chemical industry in Ukraine. The author studied changes in priorities of innovation and investment development of chemical manufacturing and grounded the conceptual implementation issues of neo-industrial development model. It is concluded that two strategic directions should be prioritized: (1) re-industrialization, i.e., technical and technological modernization of traditional enterprises of basic chemistry (2) creating high-tech small tonnage enterprises in special and fine chemistry segments using innovative technologies and based on energy/ecological efficiency.
REFERENCES
1. The official site of the State Statistics Service of Ukraine (2016), Statistical information, available at: http://www.ukrstat.gov.ua/ (Accessed 7 May 2016).
2. World Economic Journal (2013), Neo-Industrialization and the Age of Innovation Shine in Emerging Markets, World Economic Journal, September, available at: http://world-economic.com/articles_wej-299.html (Accessed 7 May 2016).
3. Amosha A., Vishnevskiy B. and Zbarazskaya L. (2012), Neoindustrialization and the new industrial policy of Ukraine, Ekonomika promy'slovosti, vol. 1-2, pp. 3–33.
4. Vishnevskiy V.P., Amosha A.I., Zbarazskaya L.A., Okhten' A.A. and Cherevatskiy D.Yu. (2013), Pro myshlennaya politika i upravlenie razvitiem promyshlennosti v usloviyakh sistemnykh disbalansov: kontseptual'nye osnovy [Industrial policy and development industry management in terms of systemic disbalances: conceptual bases], NAN Ukrainy, In-t ekonomiki prom-sti, Donetsk, Ukraine.
5. Aly'mov O.M., Amosha O.I. et al. (2014), Pershy'j etap modernizaciyi ekonomiky' Ukrayiny': dosvid ta problemy' [The first phase of the modernization of Ukraine's economy: experience and problems], [V.I. Lyashenko (Eds.)], IEP NAN Ukrayiny', KPU, Zaporizhzhya, Ukraine.
6. Bilorus O.G. (2012), The problems of global modernization and neoindustrialization transitive countries imperatives, Ekonomichny'j chasopy's–XXI, vol. 9-10, pp. 3–6.
7. Lyashenko V.I. and Kotov Ye.V. (2015), Methodological approaches to the evaluation processes of industrialized areas of Ukraine modernization, Ekonomika Ukrayiny', vol. 10, pp. 32–44.
8. Kindzers'ky'j Yu.V. (2013), Promy'slovist' Ukrayiny': strategiya i polity'ka strukturno-texnologichnoyi modernizaciyi [Ukraine Industry: strategy and policy of structural and technological modernization], NAN Ukrayiny', In-t ekon. ta prognozuv., Kyiv, Ukraine.
9. Zadoya A.A. (2012), "New Industrialization" in the context of Ukraine's strategic goals, Byuleten' Mizhnarodnogo Nobelivs'kogo ekonomichnogo forumu, no. 1, vol. 1, pp. 146–154.
10. Vorob'ev E.M. and Demchenko T.I. (2013), Neoindustrialization as a form of economic modernization, Visny'k Kharkivs'kogo nacional'nogo universy'tetu imeni V.N. Karazina. Seriya "Mizhnarodni vidnosy'ny'. Ekonomika. Krayinoznavstvo. Tury'zm", vol. 1042, pp. 76–80.
11. Prushkivs'ka E.V. (2013), Neoindustrializatsiya as the upgrade process of the secondary sector in times of
economic instability, Teorety'chni ta pry'kladni py'tannya ekonomiky', vol. 28, vol. 1, pp. 191–197.
12. Bondarecz' M.V. (2015), The evolution of the transitive neoindustrialization concepts, Global'ni ta nacional'ni problemy' ekonomiky', vol. 4, available at: http://globalnational.in.ua/archive/4-2015/10.pdf (Accessed 7 May 2016).
13. Shepet'ko R.I. (2014), Neoindustrializatsiya a phase of technological development of the real sector of economy, Formuvannya ry'nkovy'h vidnosy'n v Ukrayini, vol. 8, pp. 29–33.
14. Gazizullin N.F. (Ed.) (2014), Novaya industrializatsiya Rossii. Teoreticheskie i upravlencheskie aspekty [The new industrialization of Russia. Theoretical and managerial aspects], NPK ROST, Saint-Petersburg, Russia.
15. Gubanov S.S. (2014), Neoindustrial model of development and its system algorithm, Ekonomicheskie i sotsial'nye peremeny: fakty, tendentsii, prognoz, vol. 3, pp. 23–44.
16. Zhironkin S.A. (2014), Neo-industrial-oriented transformation of the Russian economy, D. Sc. Thesis, Economic theory, National Research Tomsk State University, Tomsk, Russia.
17. Neshitoy A. (2014), Neoindustrialization as the basis for the revival of the industrial potential, Ekonomist, no. 10, pp. 3–9.
18. Porezanova E.V. (2014), Limitations and effects of neoindustrial modernization of industrial enterprises in Russia, Izvestiya Saratovskogo universiteta. Novaya seriya. Ser.: Ekonomika. Upravlenie. Pravo, vol. 14, no. 1, p. 1, pp. 21–26.
19. Khubiev K.A. (2015), On the restructuring of the Russian economy on a new industrial basis, Problemy sovremennoy ekonomiki, no. 3, available at: http://www.m-economy.ru/art.php?nArtId=5473 (Accessed 7 May 2016).
20. Saksin A.G. (2010), Strategiya i taktika razvitiya khimicheskogo kompleksa v usloviyakh innovatsionnoy ekonomiki [Strategy and tactics of the chemical complex in the conditions of innovative economy], NNGASU, N. Novgorod, Russia.
21. Tarasova N.V. and Bogachova L.V. (2009), The impact of innovative technologies on the development of chemical industry, Nacional'ne gospodarstvo Ukrayiny': teoriya ta prakty'ka upravlinnya, pp. 105–115.
22. Kondrashova E.A. and Matros A.V. (2013), Prospects for the innovative chemical industry development, Upravlenie ekonomicheskimi sistemami, no. 11, available at: http://uecs.ru/marketing/item/2497-2013-11-05-10-11-10 (Accessed 7 May 2016).
23. Golikov I.V. and Gordeev V.A. (2015), A new chemical strategy of the Russian Federation as an important component neoindustrialization, Teoreticheskaya ekonomika, [Online], no. 4, available at: http://www.theoreticaleconomy.info/articles/940.pdf (Accessed 7 May 2016).
24. Lomovtsev D.A. and Shevarin P.G. (2010), Modern trends of innovative development of petrochemical and chemical industry in Russia, Izvestiya Tul'skogo gosudarstvennogo universiteta. Ekonomicheskie yuridicheskie nauki, no. 2-2, pp. 62–67.
25. Forsajt ekonomiky' Ukrayiny': seredn'ostrokovy'j (2015–2020 roky') i dovgostrokovy'j (2020–2030 roky') chasovi gory'zonty [Forsyth Ukraine's economy: term (2015-2020 years) and long term (2020-2030 years) time horizons] (2015), [M.Z. Zgurovs'ky'j (project leader)], NTUU KPI, Kyiv, Ukraine.
26. Ministry of Economic Development and Trade of Ukraine (2016), Strategiyi rozvy'tku vy'sokotehnologichny'h galuzej do 2025 roku: Proekt, available at: http://www.me.gov.ua/Documents/Detail?lang=uk-UA&id=c3081991-45fb-47df-abc6-59822e854a99&title=ProektstrategiiRozvitkuVisokotekhnologichnikhGaluzeiDo2025-Roku (Accessed 20 May 2016).
27. SusChem (2015), SusChem Strategic Innovation and Research Agenda, available at: http://www.suschem.org/cust/documentrequest.aspx?DocID=928 (Accessed 7 May 2016).
28. Horizon 2020. The EU Framework Programme for Research and Innovation (2016), Key Enabling Technologies, available at: http://ec.europa.eu/programmes/horizon2020/en/area/key-enabling-technologies (Accessed 7 May 2016).
29. Salihova O. (2016), A MEDT is still there ... Regarding the project Strategy of development of high-tech industries by 2025, Internet-sajt vy'dannya Ukrayins'ky'j zhurnal Ekonomist, available at: http://ua-ekonomist.com/12841-a-mert-nin-tam-schodo-proektu-strategyi-zrozvitku-visokotehnologchnih-galuzey-do-2025-roku.html (Accessed 26 May 2016).
Keywords
chemical industry, innovation and investment development, modernization, neo-industrialization strategy, global value chains
Downloads
Download data is not yet available.
References
1. Державна служба статистики України [Електронний ресурс] / Офіційний сайт Державної служби статистики України. — Режим доступу : http://www.ukrstat.gov.ua/

2. Neo-Industrialization and the Age of Innovation Shine in Emerging Markets [online] // World Economic Journal. — September 2013. — Available at: http://worldeconomic.com/articles_wej-299.html [Accessed 7 May 2016]

3. Амоша А. Неоиндустриализация и новая промышленная политика Украины / А. Амоша, В. Вишневский, Л. Збаразская // Економіка промисловості. — 2012. — № 1—2. — C. 3—33.

4. Промышленная политика и управление развитием промышленности в условиях системных дисбалансов: концептуальные основы: монография / В.П. Вишневский, А И. Амоша, Л.А. Збаразская, А.А. Охтень, Д.Ю. Череватский; под общ. ред. В.П. Вишневского и Л.А. Збаразской / НАН Украины, Ин-т экономики пром-сти. — Донецк, 2013. — 180 с.

5. Перший етап модернізації економіки України: досвід та проблеми / О.М. Алимов, О.І. Амоша та ін. ; за заг. ред. В.І. Ляшенка ; ІЕП НАН України, КПУ. — Запоріжжя : КПУ, 2014. — 798 с.

6. Білорус О.Г. Проблеми глобальної модернізації та імперативи неоіндустріалізації транзитивних країн / О.Г. Білорус // Економічний часопис—XXI. — 2012. — № 9—10. — С. 3—6.

7. Ляшенко В.І. Методичні підходи до оцінювання процесів модернізації промислово розвинутих територій України / В.І. Ляшенко, Є.В. Котов // Економіка України. — 2015. — № 10. — С. 32—44.

8. Кіндзерський Ю.В. Промисловість України: стратегія і політика структурно-технологічної модернізації : моног. / Ю.В. Кіндзерський ; НАН України, Ін-т екон. та прогнозув. — Київ, 2013. — 536 с.

9. Задоя А.А. «Новая индустриализация» в контексте стратегических целей Украины / А.А. Задоя // Бюлетень Міжнародного Нобелівського економічного форуму. — 2012. — № 1 (5). — Т. 1. — С. 146—154.

10. Воробьев Е.М. Неоиндустриализация как форма экономической модернизации / Е.М. Воробьев, Т.И. Демченко // Вісник Харківського національного університету імені В.Н. Каразіна. Серія "Міжнародні відносини. Економіка. Країнознавство. Туризм". — 2013. — № 1042. — С. 76—80.

11. Прушківська Е.В. Неоіндустріалізація як процес оновлення вторинного сектору економіки в період економічної нестабільності / Е.В. Прушківська // Теоретичні та прикладні питання економіки : зб. наук. праць. — 2013. — Вип. 28. — Т. 1. — С. 191—197.

12. Бондарець М.В. Еволюція концепцій неоіндустріалізації транзитивних країн [Електронний ресурс] / М.В. Бондарець // Глобальні та національні проблеми економіки. — 2015. — № 4. — Режим доступу : http://global-national.in.ua/archive/4-2015/10.pdf

13. Шепетько Р.І. Неоіндустріалізація як фаза технологічного розвитку реального сектору економіки / Р.І. Шепетько // Формування ринкових відносин в Україні: зб. наук. праць. — 2014. — № 8. — С. 29—33.

14. Новая индустриализация России. Теоретические и управленческие аспекты : колл. моногр. / под науч. ред. Н.Ф. Газизуллина. — СПб. : НПК "РОСТ", 2014. — 237 с.

15. Губанов С.С. Неоиндустриальная модель развития и ее системный алгоритм / С.С. Губанов // Экономические и социальные перемены: факты, тенденции, прогноз. — 2014. — № 3. — С. 23—44.

16. Жиронкин С.А. Неоиндустриально-ориен тиро ванные преобразования российской экономики : автореф. дис. ... д-ра экон. наук : 08.00.01 / С.А. Жиронкин ; ФГАОУВО "Национальный исследовательский Томский государственный университет". — Томск, 2014. — 43 с.

17. Нешитой А. Неоиндустриализация как основа возрождения промышленного потенциала / А. Нешитой // Экономист. — 2014. — № 10. — С. 3—9.

18. Порезанова Е.В. Ограничения и эффекты неоиндустриальной модернизации промышленных предприятий в России / Е.В. Порезанова // Известия Саратовского университета. Новая серия. Сер.: Экономика. Управление. Право. — 2014. — Т. 14. — Вып. 1, Ч. 1. — С. 21—26.

19. Хубиев К.А. О структурной перестройке российской экономики на новой промышленной основе [Электронный ресурс] / К.А. Хубиев // Проблемы современной экономики. — 2015. — № 3. — Режим доступа : http://www.m-economy.ru/art.php?nArtId=547

20. Саксин А.Г. Стратегия и тактика развития химического комплекса в условиях инновационной экономики : монография / А.Г. Саксин ; Нижегор. гос. архитектур.-строит. ун-т. — Н. Новгород: ННГАСУ, 2010. — 284 с.

21. Тарасова Н.В. Вплив інноваційних технологій на розвиток хімічної промисловості / Н.В. Тарасова, Л.В. Богачова // Національне господарство України: теорія та практика управління. — 2009. — С. 105—115.

22. Кондрашова Е.А. Перспективы инновационного развития предприятий химической промышленности [Электронный ресурс] / Е.А. Кондрашова, А.В. Матрос // Управление экономическими системами. — 2013. — № 11. — Режим доступа : http://uecs.ru/marketing/item/2497-2013-11-05-10-11-10

23. Голиков И.В. О новой химической стратегии РФ как важнейшей составляющей неоиндустриализации [Электронный ресурс] / И.В. Голиков, В.А. Гордеев // Теоретическая экономика. — 2015. — № 4. — Режим доступа : http://www.theoreticaleconomy.info/articles/940.pdf

24. Ломовцев Д.А. Современные тенденции инновационного развития нефтехимической и химической промышленности России / Д.А. Ломовцев, П.Г. Шеварин // Известия Тульского государственного университета. Экономические и юридические науки. — 2010. — № 2—2. — С. 62—67.

25. Форсайт економіки України: середньостроковий (2015—2020 роки) і довгостроковий (2020—2030 роки) часові горизонти / наук. кер. проекту М.З. Згуровський // Міжн. рада з науки (ICSU); НТУУ "Київський політехнічний інститут"; Інститут прикладного системного аналізу НАН України і МОН України; Світовий центр даних з геоінформатики та сталого розвитку. — К. : НТУУ "КПІ", 2015. — 36 с.

26. Проект "Стратегії розвитку високотехнологічних галузей до 2025 року" [Електронний ресурс] / Міністерство економічного розвитку і торгівлі України. — Режим доступу : http://www.me.gov.ua/Documents/Detail?lang=uk-UA&id=c3081991-45fb-47df-abc6-59822e854a99&title=ProektstrategiiRozvitkuVisokotekhnologichnikhGaluzeiDo2025-Roku

27. SusChem Strategic Innovation and Research Agenda, (2015) [online]. — Available at: http://www.suschem.org/cust/documentrequest.aspx?DocID=928 [Accessed 7 May 2016]

28. Key Enabling Technologies [online] / Horizon 2020. The EU Framework Programme for Research and Innovation. — Available at: http://ec.europa.eu/programmes/horizon2020/en/area/key-enabling-technologies [Accessed 7 May 2016]

29. Саліхова О. А МЕРТ і нині там… Щодо проекту "Стратегії розвитку високотехнологічних галузей до 2025 року" [Електронний ресурс] / О. Саліхова // Інтернет-сайт видання "Український журнал "Економіст". — Режим доступу : http://ua-ekonomist.com/12841-a-mertnin-tam-schodo-proektu-strategyi-z-rozvitku-visokotehnologchnih-galuzey-do-2025-roku.html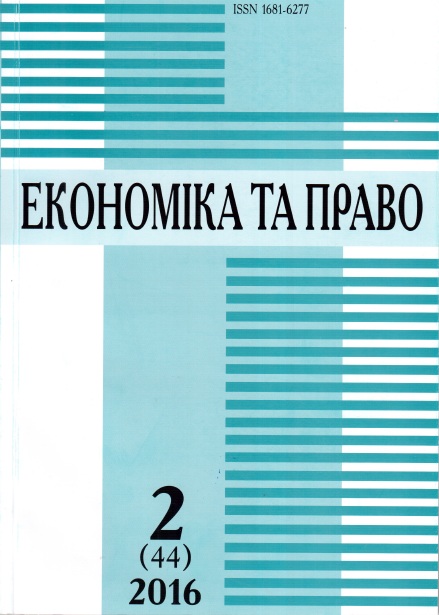 Abstract views: 149 PDF Downloads: 172