SCIENTIFIC AND PRACTICAL ASPECTS OF PUBLIC-PRIVATE PARTNERSHIP IN EDUCATION
Labour Economics, Social Economy and Policy
O.M. Golovinov

Donetsk National University of Economics and Trade named Michael Tugan-Baranovsky, Donetsk

L.A. Dmytrychenko

Donetsk National University of Economics and Trade named Michael Tugan-Baranovsky, Donetsk
Abstract
The paper views public-private partnership as an organizational and coordination form of mutual relations capable of coordination of the actions and decisions made by the subjects of the educational sector and in business environment; defines the incentive motives of partners' actions, the conditions for combining their interests as well as the factors which hinder the development of the above form of relations. Some measures are offered that should provide the real development of public-private partnership in education to realize not only its innovative nature but the national economy as a whole.
REFERENCES:


Vinnyk O.M. Korporatyvna forma derzhavno-pryvatnoho partnerstva: problemy pravovoho zabezpechennia na tli zarubizhnoho dosvidu : monohrafiia / O.M. Vinnyk. — Sumy : MakDen, 2012. — 204 s.


Shylepnytskyi P.I. Derzhavno-pryvatne partnerstvo: teoriia i praktyka : monohrafiia / P.I. Shylepnytskyi ; Nats. akad. nauk Ukrainy, In-t rehion. doslidzh. — Chernivtsi, 2011. — 454 s.


Gosudarstvenno-chastnoe partnerstvo v nauchno-innovacionnoj sfere / pod red. A.K. Kazanceva, D.A. Rubval'tera. — Moskva : INFRA-M, 2009. — 329 s.


Gosudarstvenno-chastnoe partnerstvo v obrazovanii : monografija / nauch. redaktory : O.P. Molchanova, A.Ja. Livshin. — Moskva : KDU, 2009. — 240 s.


Novikov V.S. Gosudarstvenno-chastnoe partnerstvo kak mehanizm transformacii sfery obrazovatel'nyh uslug : monografija / V.S. Novikov ; Negos. chastnoe obrazovatel'noe uchrezhdenie vyssh. prof. obrazovanija Juzhnyj in-t menedzhmenta. — Krasnodar : Izd-vo JuIM, 2010. — 187 s.


Bicoti B.B. Gosudarstvenno-chastnoe partnerstvo: perspektiva i retrospektiva [Jelektronnyj resurs] / B.B. Bicoti. — Rezhim dostupa : http://bujet.ru/article/161183.php


Holovinov O.M. Kontseptualni zasady formuvannia derzhavno-pryvatnoho partnerstva / O.M. Holovinov // Ekonomichnyi visnyk Donbasu. — 2012. — № 3 (29). — S. 56–62.


Miller John B. Principles of Public and Private Infrastructure Delivery / John B. Miller. — Kluwer Academic Publishers, 2000. — 654 p.


O gosudarstvenno-chastnom partnerstve : Zakon Ukrainy ot 01.07.2010 g. № 2404-VI [Jelektronnyj resurs]. — Rezhim dostupa : http://zakon2.rada.gov.ua/laws/show/


Derzhavna sluzhba statystyky Ukrainy [Elektronnyi resurs]. — Rezhym dostupu : http://www.ukrstat.gov.ua/


Investgazeta. — 2011. — № 20. — 2 ijunja [Elektronnij resurs]. — Rezhim dostupa : http://investgazeta.net/politika-i-ekonomika/ukrainskajasistema-obrazovanija-v-cifrah-161425/


Vysshee obrazovanie v Pol'she: Ukraina javljaetsja prioritetnym partnerom dlja pol'skih vuzov [Jelektronnyj resurs]. — Rezhim dostupa : http://ru.osvita.ua/abroad/higher_school/articles/29599/


Keywords
public-private partnership, educational sector, educational services, contractual form of publicprivate partnership, institutional form of public-private partnership
Downloads
Download data is not yet available.
References
1. Вінник О.М. Корпоративна форма державно-приватного партнерства: проблеми правового забезпечення на тлі зарубіжного досвіду : монографія / О.М. Вінник. — Суми : МакДен, 2012. — 204 с.

2. Шилепницький П.І. Державно-приватне партнерство: теорія і практика : монографія / П.І. Шилепницький ; Нац. акад. наук України, Ін-т регіон. дослідж. — Чернівці, 2011. — 454 с.

3. Государственно-частное партнерство в научно-инновационной сфере / под ред. А.К. Казанцева, Д.А. Рубвальтера. — Москва : ИНФРА-М, 2009. — 329 с.

4. Государственно-частное партнерство в образовании : монография / науч. редакторы : О.П. Молчанова, А.Я. Лившин. — Москва : КДУ, 2009. — 240 с.

5. Новиков В.С. Государственно-частное партнерство как механизм трансформации сферы образовательных услуг : монография / В.С. Новиков ; Негос. частное образовательное учреждение высш. проф. образования Южный ин-т менеджмента. — Краснодар : Изд-во ЮИМ, 2010. — 187 с.

6. Бицоти Б.Б. Государственно-частное партнерство: перспектива и ретроспектива [Электронный ресурс] / Б.Б. Бицоти. — Режим доступа : http://bujet.ru/article/161183.php

7. Головінов О.М. Концептуальні засади формування державно-приватного партнерства / О.М. Головінов // Економічний вісник Донбасу. — 2012. — № 3 (29). — С. 56–62.

8. Miller John B. Principles of Public and Private Infrastructure Delivery / John B. Miller. — Kluwer Academic Publishers, 2000. — 654 p.

9. О государственно-частном партнерстве : Закон Украины от 01.07.2010 г. № 2404-VI [Электронный ресурс]. — Режим доступа : http://zakon2.rada.gov.ua/laws/show/

10. Державна служба статистики України [Електронний ресурс]. — Режим доступу : http://www.ukrstat.gov.ua/

11. Инвестгазета. — 2011. — № 20. — 2 июня [Електронний ресурс]. — Режим доступа : http://investgazeta.net/politika-i-ekonomika/ukrainskajasistema-obrazovanija-v-cifrah-161425/

12. Высшее образование в Польше: Украина является приоритетным партнером для польских вузов [Электронный ресурс]. — Режим доступа : http://ru.osvita.ua/abroad/higher_school/articles/29599/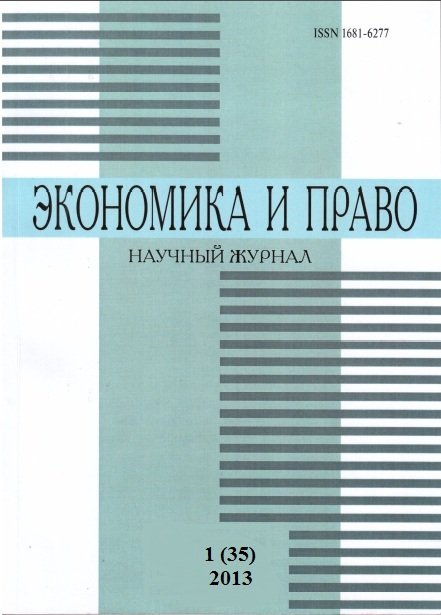 Abstract views: 243 PDF Downloads: 74