BASIC PROBLEM OF THE STATUS OF MODERN LEGAL COUNSELS
Problems Legislation Development: foreign experience
M.I. Kleandrov

The Constitutional Court of the Russian Federation, Moscow, Russian Federation
Abstract
The paper sheds light on the organizational and legal mechanisms for protection of professional rights of legal counsels who work in the entrepreneurial sphere.
REFERENCES:


Obshhee polozhenie o juridicheskom otdele (bjuro), glavnom (starshem) juriskonsul'te ministerstva, vedomstva, Ispolnitel'nogo komiteta Soveta deputatov trudjashhihsja predprijatija, organizacii, uchrezhdenija : Postanovlenie Soveta Ministrov SSSR ot 22.06.1972 g. № 467 // Sobranie postanovlenij Pravitel'stva SSSR. — 1972. — № 12. — St. 70.


Ob utverzhdenii Vseobshhego polozhenija o juridicheskoj sluzhbe ministerstva, drugogo organa ispolnitel'noj vlasti, gosudarstvennogo predprijatija, uchrezhdenija i organizacij : Postanovlenie Kabineta Ministrov Ukrainy ot 26.11.2008 g. № 1040 // Ofitsiinyi visnyk Ukrainy. — 2008. — № 93. — St. 3068.


Ob utverzhdenii Tipovogo polozhenija o juridicheskoj sluzhbe predprijatija (ob#edinenija) v Respublike Belarus' ot 29.12.1998 g. № 371 [Jelektronnyj resurs]. — Rezhim dostupa : http://www/Laws'by.narod.ru/autor/bstate36/pade4.html


Keywords
legal counsel, legal status, protection of professional rights, entrepreneurial sphere
Downloads
Download data is not yet available.
References
1. Общее положение о юридическом отделе (бюро), главном (старшем) юрисконсульте министерства, ведомства, Исполнительного комитета Совета депутатов трудящихся предприятия, организации, учреждения : Постановление Совета Министров СССР от 22.06.1972 г. № 467 // Собрание постановлений Правительства СССР. — 1972. — № 12. — Ст. 70.

2. Об утверждении Всеобщего положения о юридической службе министерства, другого органа исполнительной власти, государственного предприятия, учреждения и организаций : Постановление Кабинета Министров Украины от 26.11.2008 г. № 1040 // Офіційний вісник України. — 2008. — № 93. — Ст. 3068.

3. Об утверждении Типового положения о юридической службе предприятия (объединения) в Республике Беларусь от 29.12.1998 г. № 371 [Электронный ресурс]. — Режим доступа : http://www/Laws'by.narod.ru/autor/bstate36/pade4.html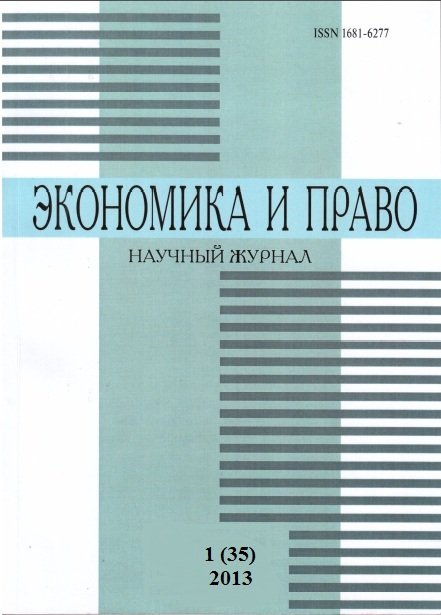 Abstract views: 202 PDF Downloads: 138