LEGAL REGULATION OF INVESTMENT ACTIVITY IN FOREIGN COUNTRIES
Series "Law": Economic and legal comparative researches
Abstract
The article states that the basis of legal regulation of investment activity is the legislative base of the country, which is regulated by state and regional authorities and affects investment attractiveness. The level of investment attractiveness of the country will depend on how effective the legislative system works. The authors of the article investigate the experience of legal regulation of investment activity in some foreign countries. The distribution of the studied countries is done on the same, which have a special single legal act regulating investment activity, namely: Poland, Hungary, Czech Republic, and those in which investment activity is regulated by a complex of normative legal acts, that is, the only special legislative act in such countries is non-available. These countries include Britain, Germany, France, Brazil. Summarizing the analyzed experience of foreign countries, the authors came to the conclusion that the legal regulation of investment activity affects the level of investment attractiveness of another country. For the legislation of Ukraine useful experience of Poland, the Czech Republic, Hungary, Brazil can become useful regarding the provision of foreign investments to the national regime, without limiting their activities. Also, it makes sense to borrow the experience of Germany and Hungary to grant special privileges and preferences to foreign investors, investing in depressed regions, that is, regions lagging behind their economic development.
REFERENCES
1. Karlova O.A., Kalashnikova Kh.I. ta in. Sotsialno-ekonomichnyi rozvytok terytorii: formuvannia investytsiinoi pryvablyvosti. Kharkiv: Drukarnia Madryd, 2016. 182 p. [in Ukrainian].
2. Kelder T.L. Derzhavne rehuliuvannia mizhnarodnoi ekonomichnoi diialnosti v umovakh hlobalizatsii. Visnyk Zaporizkoho natsionalnoho universytetu: Ekonomichni nauky. 2010. No. 1(5). P. 148-153 [in Ukrainian].
3. Stoianenko I.V., Komarysta O.I. Dosvid derzhavnoho rehuliuvannia investytsiinykh protsesiv u rozvynutykh krainakh ta perspektyvy yoho vykorystannia v ekonomitsi Ukrainy. Investytsii: praktyka ta dosvid. 2011. No. 24. P. 20-23 [in Ukrainian].
4. Shevchenko N.I. Dosvid systemy derzhavnoho harantuvannia inozemnoho investuvannia v riznykh krainakh. Ekonomika ta derzhava. 2010. No. 4. P. 143-143 [in Ukrainian].
5. Popova Yu.M., Tarasenko O.V. Svitovyi dosvid rehuliuvannia mizhnarodnoi investytsiinoi diialnosti. Hlobalni ta natsionalni problemy ekonomiky. 2017. No. 16. P. 77-80 [in Ukrainian].
6. Bohdanova K.A. Adaptatsiia zakordonnoho dosvidu vykorystannia inozemnykh investytsii dlia zabezpechennia staloho rozvytku Ukrainy. Visnyk SumDU. Seriia "Ekonomika". 2017. No. 4. P. 91-106 [in Ukrainian].
7. Kirin A.V., Bakatin D.V., Horoshilova A.V. Regulirovanie inostrannyh investicij v jekonomicheski razvityh stranah: ucheb. posob. M.: Izd-vo Mosk. un-ta, 2013. 71 p. [in Russian].
8. Brazyliia u 2017. Prezentatsiia. URL: https://cci.dp.ua/tl_files/data/files/For%20your%20information/Prezentacija%20ekonomichnogo%20potencialu%20Braziliji.pdf [in Ukrainian].
9. Legal certainty guide for foreign investors in Brazil. Brazil imprensa nacional. 2018. 23 p. URL: https://sistemas.mre.gov.br/kitweb/datafiles/Miami/en-us/file/LEGAL%20CERTAINTY%20GUIDE%20FOR%20FOREIGN%20INVESTORS%20IN%20BRAZIL.pdf
10. Ribeiro F.G., Casarotti R.R. and Takuno T. The Foreign Investment Regulation Review. Brazil. The law reviews. Editions 6. October 2018. URL: https://thelawreviews.co.uk/edition/the-foreign-investment-regulation-reviewedition-6/1174862/brazil.pdf
11. Saharov A.G. Investicionnaja politika stran BRIKS cherez prizmu Ramochnoj koncepcii v oblasti investicij OJeSR. Vestnik mezhdunarodnyh organizacij: obrazovanie, nauka, novaja jekonomika. 2017. No. 3. P. 160-181 [in Russian].
12. Makhitko V.S., Poliichuk M.V., Dudchyk O.Iu. Investytsiina diialnist: dosvid Polshchi ta perspektyvy Ukrainy. Naukovyi visnyk Mizhnarodnoho humanitarnoho universytetu. Seriia: Ekonomika i menedzhment. 2017. Iss. 27(1). P. 45-48 [in Ukrainian].
13. Parii Ya.P. Osoblyvosti formuvannia investytsiinoho klimatu v krainakh z perekhidnoiu ekonomikoiu (dosvid respubliky Polshcha). Naukovyi visnyk Akademii munitsypalnoho upravlinnia. Seriia: "Upravlinnia". 2010. Iss. 2. P. 367-374 [in Ukrainian].
14. Sinnathamby A.M., Czernicka J. D. Foreign Direct Investment in Poland: Key determinants and the impact of Poland's accession to European Union. URL: http://pure.au.dk/portal/files/8009/Master_Thesis_Czernicka_Sinnathamby.pdf
15. El-Shamandi S.Kh. Derzhavne rehuliuvannia ukrainsko-polskoi investytsiinoi diialnosti na tsentralnomu ta rehionalnomu rivniakh. Aktualni problemy derzhavnoho upravlinnia. 2013. No. 2. P. 253-259 [in Ukrainian].
16. Department of State: 2014 Investment Climate Statement. Hungary. June 2014. URL: https://www.state.gov/documents/organization/227351.pdf
17. Stukalo N.V., Khutorna A.V. Dosvid derzhavnoho rehuliuvannia inozemnykh investytsii u krainakh svitu. Ekonomika sohodennia: aktualni pytannia ta perspektyvy. URL: http://economics-issues.com.ua/zmist-zhurnalu/ekonomikasogodennya-aktualni-pitannya-ta-perspektivi-2012-1/dosvid-derzhavnogo-regulyuvannya-inozemnix-investicij-ukra%D1%97nax-svitu/ [in Ukrainian].
18. Rubish I.I. Derzhavne rehuliuvannia investytsiinykh protsesiv v perekhidnykh ekonomikakh: dys. … kand. ekon. nauk: 08.00.03. Lviv, 2018. 282 p. [in Ukrainian]. URL: http://www.lute.lviv.ua/fileadmin/www.lac.lviv.ua/data/pidrozdily/Aspirantura/Rady/Spec_vchena_rada/Dysertacii/2018_05/Rubish_Disert.pdf
19. Lintur I.V. Mozhlyvosti vykorystannia zarubizhnoho dosvidu investuvannia v transformatsiinii ekonomitsi Ukrainy. Efektyvna ekonomika. 2013. No. 3. URL: http://nbuv.gov.ua/UJRN/efek_2013_3_16 [in Ukrainian].
20. Chala V., Usharova Yu., Mkhitarian A. Analiz cheskoho dosvidu polipshennia investytsiinoho klimatu ta mozhlyvist yoho adaptatsii v Ukraini. Ekonomichnyi prostir. 2016. No. 107. P. 82-92 [in Ukrainian].
21. Ustymenko V., Zeldina O. EU Investment policy as the basis for sustainable development: implementation prospects in Ukraine. European Journal of Sustainable Development. 2019. Vol. 8. No. 1. Р. 40-52. https://doi.org/10.14207/ejsd.2019.v8n1p40
Keywords
legal regulation, investment activities, investment legislation, investment attractiveness, single special legislation, complex of regulatory acts, foreign countries
Downloads
Download data is not yet available.
References
1. Карлова О.А., Калашнікова Х.І. та ін. Соціально-економічний розвиток території: формування інвестиційної привабливості. Харків: Друкарня Мадрид, 2016. 182 с.

2. Кельдер Т.Л. Державне регулювання міжнародної економічної діяльності в умовах глобалізації. Вісник Запорізького національного університету: Економічні науки. 2010. № 1 (5). С. 148—153.

3. Стояненко І.В., Комариста О.І. Досвід державного регулювання інвестиційних процесів у розвинутих країнах та перспективи його використання в економіці України. Інвестиції: практика та досвід. 2011. № 24. С. 20—23.

4. Шевченко Н.І. Досвід системи державного гарантування іноземного інвестування в різних країнах. Економіка та держава. 2010. № 4. С. 143—143.

5. Попова Ю.М., Тарасенко О.В. Світовий досвід регулювання міжнародної інвестиційної діяльності. Глобальні та національні проблеми економіки. 2017. № 16. С. 77—80.

6. Богданова К.А. Адаптація закордонного досвіду використання іноземних інвестицій для забезпечення сталого розвитку України. Вісник СумДУ. Серія «Економіка». 2017. № 4. С. 91—106.

7. Кирин А.В., Бакатин Д.В., Хорошилова А.В. Регулирование иностранных инвестиций в экономически развитых странах: учеб. пособ. М.: Изд-во Моск. ун-та, 2013. 71 с.

8. Бразилія у 2017 р. Презентація. URL: https://cci.dp.ua/tl_files/data/files/For%20your%20information/Prezentacija%20ekonomichnogo%20potencialu%20Braziliji.pdf (дата звернення: 12.03.2019).

9. Legal certainty guide for foreign investors in Brazil. Brazil imprensa nacional. 2018. 23 p. URL: https://sistemas.mre.gov.br/kitweb/datafiles/Miami/en-us/file/LEGAL%20CERTAINTY%20GUIDE%20FOR%20FOREIGN%20INVESTORS%20IN%20BRAZIL.pdf (дата звернення: 12.03.2019).

10. Ribeiro F.G., Casarotti R.R., Takuno T. The Foreign Investment Regulation Review. Brazil. The law reviews. Editions 6. October 2018. URL: https://thelawreviews.co.uk/edition/the-foreign-investment-regulation-review-edition-6/1174862/brazil pdf (дата звернення: 12.03.2019).

11. Сахаров А.Г. Инвестиционная политика стран БРИКС через призму Рамочной концепции в области инвестиций ОЭСР. Вестник международных организаций: образование, наука, новая экономика. 2017. № 3. С. 160—181.

12. Махітько В.С., Полійчук М.В., Дудчик О.Ю. Інвестиційна діяльність: досвід Польщі та перспективи України. Науковий вісник Міжнародного гуманітарного університету. Серія: Економіка і менеджмент. 2017. Вип. 27 (1). С. 45—48.

13. Парій Я.П. Особливості формування інвестиційного клімату в країнах з перехідною економікою (досвід республіки Польща). Науковий вісник Академії муніципального управління. Серія: «Управління». 2010. Вип. 2. С. 367—374.

14. Sinnathamby A.M., Czernicka J. D. Foreign Direct Investment in Poland: Key determinants and the impact of Poland's accession to European Union. URL: http://pure.au.dk/portal/files/8009/Master_Thesis_Czernicka_Sinnathamby.pdf (дата звернення: 12.03.2019).

15. Ель-Шаманді С.Х. Державне регулювання українсько-польської інвестиційної діяльності на центральному та регіональному рівнях. Актуальні проблеми державного управління. 2013. № 2. С. 253—259.

16. Department of State: 2014 Investment Climate Statement. Hungary. June 2014. URL: https://www.state.gov/documents/organization/227351.pdf (дата звернення: 10.03.2019).

17. Стукало Н.В., Хуторна А.В. Досвід державного регулювання іноземних інвестицій у країнах світу. Економіка сьогодення: актуальні питання та перспективи. URL: http://economics-issues.com.ua/zmist-zhurnalu/ekonomika-sogodennya-aktualni-pitannya-ta-perspektivi-2012-1/dosvid-derzhavnogo-regulyuvannya-inozemnixinvesticij-u-kra%D1%97nax-svitu/ (дата звернення: 10.03.2019).

18. Рубіш І.І. Державне регулювання інвестиційних процесів в перехідних економіках: дис. … канд. екон. наук: 08.00.03. Львів, 2018. 282 с. URL: http://www.lute.lviv.ua/fileadmin/www.lac.lviv.ua/data/pidrozdily/Aspirantura/Rady/Spec_vchena_rada/Dysertacii/2018_05/Rubish_Disert.pdf (дата звернення: 10.03.2019).

19. Лінтур І.В. Можливості використання зарубіжного досвіду інвестування в трансформаційній економіці України. Ефективна економіка. 2013. № 3. URL: http://nbuv.gov.ua/UJRN/efek_2013_3_16 (дата звернення: 10.03.2019).

20. Чала В., Ушарова Ю., Мхітарян А. Аналіз чеського досвіду поліпшення інвестиційного клімату та можливість його адаптації в Україні. Економічний простір. 2016. № 107. С. 82—92.

21. Ustymenko V., Zeldina O. EU Investment policy as the basis for sustainable development: implementation prospects in Ukraine. European Journal of Sustainable Development. 2019. Vol. 8. № 1. Р. 40—52. https://doi.org/10.14207/ejsd.2019.v8n1p40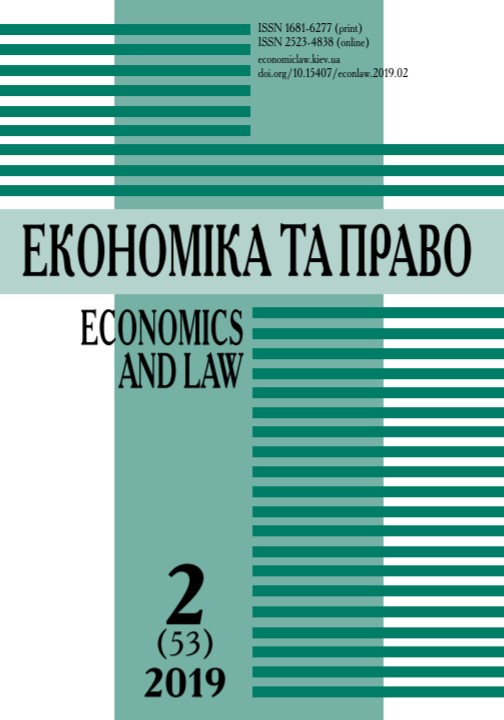 Abstract views: 360 PDF Downloads: 1268