HISTORICAL AND LEGAL PRECONDITIONS OF DESTRUCTION EFFECT OF THE ENERGY REGULATORY LAW OF UKRAINE
Series "Law": Problems of development of the legislation of Ukraine
G.D. Dzhumageldieva

Institute of Economic and Legal Researches of the NAS of Ukraine, Kyiv
Abstract
In the article is defined the historical and legal preconditions of development of energy legislation of Ukraine that led to the destructive nature of its impact on the activity of the energy sector. It argued that main factors of domination of positive regulatory impact are unsystematic nature of re forming, a separation of economic, ecological and innovative aspects of economic activity, a slow pace of reforms, an excessive specialization of energy legislation.
REFERENCES
1. Bytyak O.Yu. (2010), Hospodars'ko-pravove zabezpechennya funktsionuvannya elektroenerhetychnoho rynku Ukrayiny [Economic and law regulation of electricity energy market's activity], NDI pryvatnoho prava ta pidpryyemnytstva, Kharkiv, Ukraine.
2. Kirin R.S. (2015) Kodyfikatsiya zakonodavstva pro nadra: dosvid ta problem [Codification of Subsoil legislation: experience and problems], NHU, Dnipropetrovsk, Ukraine.
3. Enerhetycheskoe pravo Rossiyi i Hermaniyi: sravnytel'nopravovoe yssledovanye (2011) [Energy law of Russia and Germany: comparative and law research, Yuryst, Moscow, Russia.
4. Basic indicators of NAC "Energy company of Ukraine' energy produces companies' activity, available at: http://http://www.ecu. gov.ua/ua/activity/stat.html? (Accessed 2 September 2015).
5. Zavhorodnyaya O.P. (2010) Zarubezhnyi opyt yntehratsyy uhledobevayushchykh y elektroheneryruyushchykh kompanyy [International experience for coal-mining and power generation companies], Ekonomika promyslovosti, vol. 2, 58-66 pp.
6. Mamutov V.K. (2009) Kodyfykatsyya khozyaystvennoho za konodatel'stva — vazhnoe uslovye preduprezhdenyya pravonarushenyy i bor'by s nimi [Codification of economic and law legislation is an important condition for prevention of offences and fighting with it], materialy respublikanskoy ekonomiko-pravovoy konferensii [Thesis of the Republic Research and Practice Conference], Yuho-Vostok, Donetsk, Ukraine, pp. 37-57.
Keywords
energy legislation, historical and legal preconditions, privatization, mining enterprises, protection of the environment
Downloads
Download data is not yet available.
References
1. Битяк О.Ю. Господарсько-правове забезпечення функціонування електроенергетичного ринку України : автореф. дис. … канд. юрид. Наук : 12.00.04 / О.Ю. Битяк; НДІ приватного права та підприємництва НАПрН
України. — Харків, 2010. — 20 с.

2. Кірін Р.С. Кодифікація законодавства про надра: досвід та проблеми : монографія / Р.С. Кірін; МОН України, нац. гірн. Ун-т. — Дніпропетровськ : НГУ, 2015. — 528 с.

3. Энергетическое право России и Германии: сравнительно-правовое исследование / под ред. П.Г. Лахно. — М. : Юрист, 2011. — 1076 с.

4. Інформаційна довідка про основні показники роботи енергогенеруючих компаній та електростанцій НАК «Енергетична компанія України» [Електронний ресурс]. — Режим доступу : http://www.ecu. gov.ua/ua/activity/stat.html?

5. Завгородняя О.П. Зарубежный опыт интеграции угледобывающих и электрогенерирующих компаний / О.П. Завгородняя // Економіка промисловості. — 2010. — № 2. — С. 58—66.

6. Мамутов В.К. Кодификация хозяйственного законодательства — важное условие предупреждения правонарушений и борьбы с ними / В.К. Мамутов // Проблемы борьбы с правонарушениями, причиняющими ущерб экономике : материалы республикан. экон.- прав. науч. конф. / НАН Украины, Ин-т экономико-правовых исследований. — Донецк : Юго-Восток, 2009. — С. 37—57.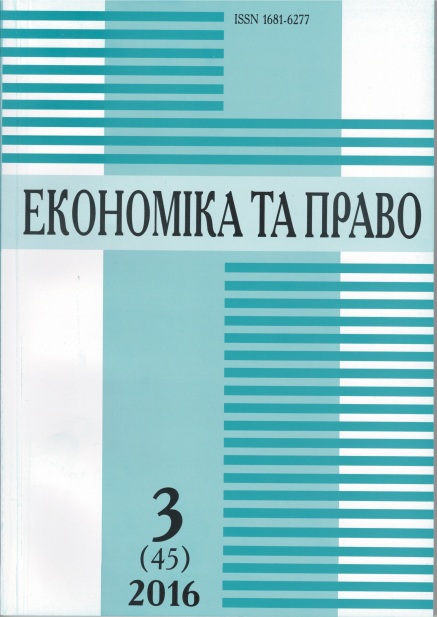 Abstract views: 137 PDF Downloads: 116