REGULATORY PRESSURE ON ENTREPRENEURSHIP AND ITS INFLUENCE ON SHADOWING OF SMALL AND MEDIUM BUSINESS
Economic and Legal Problems of Warning Economic Infringements
V.I. Layshenko

Institute of Industrial Economics of NAS of Ukraine, Donetsk

A.F. Tolmacheva

Institute of Industrial Economics of NAS of Ukraine, Donetsk
Abstract
The paper covers the problems concerning influence of regulatory policy on the development of entrepreneurship. The proposals are given to improve regulatory environment under introduction of legislative acts package on regulation of permissive system, licensing and control in the sphere of economic activities in Ukraine.
Keywords
regulatory policy, entrepreneurship, influence, shadowing, small and medium business, legislative acts, improvement
Downloads
Download data is not yet available.
References
1. Бизнес-среда в Украине. Проект «Развитие предпринимательства в Украине». – Режим доступа : http://www.ifc.org/SME_Ukraine

2. Коммерсант!Украина. – 2007. – 7 августа (№ 132).

3. Крючкова И. Макроструктурные факторы развития теневого сегмента в обороте ВВП // Економічний Часопис – XXI. – 2002. – № 4. – Режим доступа : http:// www.soskin.info

4. «Круглий стіл» на тему «Економічна безпека підприємництва в контексті заходів детінізації економіки», м. Львів, 4 квітня 2008 р. – Режим доступа : http://niss.lviv.ua

5. Ляшенко В. И., Толмачева А. Ф. Специальные режимы хозяйствования на территориях приоритетного развития Донбасса: вопросы теории и практики. – Донецк : ООО «Юго-Восток, Лтд», 2005. – 221 с.

6. Влияние специальных налоговых режимов на развитие малого предпринимательства в регионе. – Донецк : ООО «Юго-Восток, Лтд», 2006. – 226 с.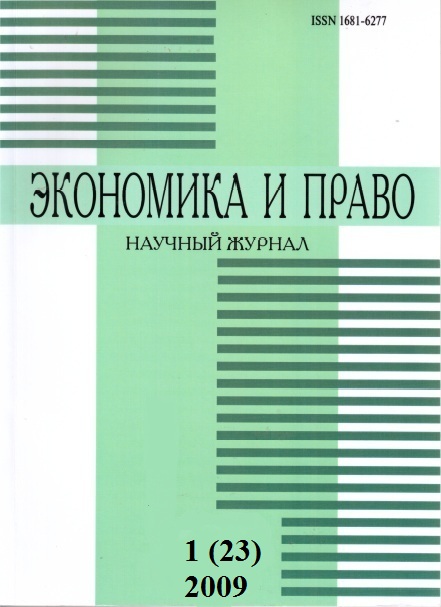 Abstract views: 26 PDF Downloads: 13