EXPERT ASSESSMENT TOOL AS THE DEFINITION INSTRUMENT OF COMMON PROBLEMS IN REGIONS
Series "Economy": Economic and legal problems of interregional cooperation
N.О. Vasylchuk

Institute of Economic and Legal Researches of the NAS of Ukraine, Kyiv
Abstract
The paper solved applied problems, namely, expert evaluation carried out on the basis of which the definition of the problem and the direction of inter-regional cooperation of Sumy, Poltava, Kharkov and the Dnipropetrovs'k regions. The expediency of using peer review. It proved a major advantage of the expert evaluation method which is based in the fact that professionals can use not only information based on statistical indicators of time, but also irregular, one-time information of a qualitative nature. It was found that the peer review contributes to the objective vision of regional problems, in turn, makes it possible to quickly and carefully to make management decisions.
REFERENCES
1. Byelyen'kyy P.Yu. and Mikula N.А. (2011), Formuvannya ta rozvytok systemy mizhrehional'noho ta transkordonnoho spivrobitnytstva v Ukrayini [Formation and development of interregional and cross-border cooperation in Ukraine], Rehional'na ekonomika, vol. 3, рр. 61-73.
2. Babinova O.О. (2011), Mіzhregіonal'ne spіvrobіtnictvo: zmіst, formi, rol' ta problemi realіzacії v Ukraїnі [Interregional cooperation: content, form, role and problems of implementation in Ukraine], Derzhavne upravlinnya ta mistseve samovryaduvannya, vol. 4 (11), pp. 189-197.
3. Budkin V.S. (1993), Prykordonne spivrobitnytstvo v systemi adaptatsiyi ekonomiky Ukrayiny do yevropeys'koho hospodars'koho prostoru [Cross-border cooperation in the system of adaptation of the Ukrainian economy to the European economic space], Problemy spivrobitnytstva prykordonnykh terytoriy Ukrayiny i Pol'shchi, vol. 3, рр. 169-179.
4. Mikula N.A., Matvyeyev Ye.E., and Tolkovanov V.V. (2012), Konverhentsiya rehioniv u transkordonnomu prostori, [Convergence regions in the cross-border area], In-t rehional'nykh doslidzhen' NAN Ukrayiny; L'vivs'kyy rehional'nyy instytut derzhavnoho upravlinnya Nats. Akademiyi derzh. up-nya pry Prezydentovi Ukrayiny, L'viv, Ukraine.
5. Mikula N.A., and Matvyeyev Ye.E. (2011), Rozvytok novykh form transkordonnoho spivrobitnytstva [The development of new forms of cross-border cooperation], Ekonomist, vol. 5, рр. 20-24.
6. Omarov A.E. (2009), Derzhavn erehulyuvannya mizh rehional'noho spivrobitnytstva v ekonomichniy sferi [State regulation of inter-regional cooperation in the economic sphere] PhD. diss. Economy. Sciences. Kharkov Regional Institute of Public Administration of the National Academy of Public Administration under the President of Ukraine, Kharkiv, Ukraine.
7. Pavlikha N.V. and Marchuk Yu.V. (2014), Kontseptual'ni zasady upravlinnya proektamy stalykh prostorovykh system [Conceptual project management through continuous spatial systems], Upravlinnya rozvytkom skladnykh system, vol. 18. рр. 74-79.
8. Skibits'kyy O.M., Matveev V.V. and Skibits'ka L.I. (2011) Orhanizatsiya biznesu. Menedzhment pidpryyemnyts'koyi diyal'nosti. [Business Organization. Management of business], Kondor, Kyiv, Ukraine.
9. Storonyans'ka I.Z. (2010), Rehional'nyy rozvytok Ukrayiny: problemy intehratsiyi ta konverhentsiyi [Regional development of Ukraine: problems of integration and convergence], IRD NAN Ukraine, Lviv, Ukraine.
10. Kish Ye. (2006), Problemy transkordonnoho spivrobitnytstva Ukrayiny i Yevrosoyuzu [The problems of cross-bor der cooperation between Ukraine and the EU], Ukrayins'kyy tsentr politychnoho menedzhmentu, vol. 5. рр. 131-144.
11. Studennikov I. (2000), Transkordonne spivrobitnytstvo ta yoho mistse v rehional'nom urozvytku [Cross-border cooperation and its place inregional development], Lohos, Kyiv, Ukraine.
12. Beskrovnyy Y.M. (2012), Analyz al'ternatyv y vybor dyahnostycheskykh hypotez. Chast' I. Pravylo Bayesa y metody teoryy prynyatyya reshenyy Mezhdunarodnyy zhurnal prykladnykh y fundamental'nykh yssledovanyy [Analysis of alternatives and the selection of diagnostic hypotheses. Part I. Rule Bayes methods and decision theory], Modern high technologies, vol. 2. рр. 33-40.
13. Titarenko H.B., and Korin'ko M.D. (2010), Vybir ekspertiv u doslidzhennyakh metodolohiyi ta orhanizatsiyi bukh halters'koho obliku, kontrolyu ta analizu [The choice of experts in research methodology and organization of accounting, control and analysis], Aktual'ni problemy ekonomiky, vol. 7 (109), рр. 270 — 277.
14. Arapov S.M., and Arapova I.P. (2000), Elementy otsinky ekspertnykh rishen' [Elements of assessment expert so lutions], Vinnyts'kyy derzh. tekhnichnyy un-t, Vinnytsya, Ukraine.
15. Vasylenko V.N. (2016), Mnohomernost' parametrov rehyona: terrytoryy, systemy, prostranstva [Multidimensional parameter in the region: the territory, the system space], Yuho-Vostok, Druzhkovka, Ukraine.
Keywords
peer review, inter-regional cooperation, the organizational form of interregional co-operation, SWOT-analysis of the regional development strategies, the value and number of parameters
Downloads
Download data is not yet available.
References
1. Бєлєнький П.Ю. Формування та розвиток системи міжрегіонального та транскордонного співробітництва в Україні / П.Ю. Бєлєнький, Н.А. Мікула // Регіональна економіка. — 2011. — № 3. — С. 61—73.

2. Бабінова О.О. Міжрегіональне співробітництво: зміст, форми, роль та проблеми реалізації в Україні / О.О. Бабінова // Державне управління та місцеве самоврядування. — 2011. — № 4 (11). — С. 189—197.

3. Будкін В.С. Прикордонне співробітництво в системі адаптації економіки України до європейського господарського простору // Проблеми співробітництва прикордонних територій України і Польщі. — 1993. — Бюл. № 3. — Варшава-Київ. — С. 169—179.

4. Конвергенція регіонів у транскордонному просторі : монографія / Н.А. Мікула, Є.Е. Матвєєв, В.В. Тол-
кованов [та ін.]; відп. ред. Н.А. Мікула ; Ін-т регіональних досліджень НАН України; Львівський регіональний інститут державного управління Нац. академії держ. уп-ня при Президентові України. - Львів, 2012. — 368 с.

5. Мікула Н.А. Розвиток нових форм транскордонного співробітництва / Н.А. Мікула, Є.Е. Матвєєв // Економіст. — 2011. — № 5. — С. 20—24.

6. Омаров А.Е. Державне регулювання міжрегіонального співробітництва в економічній сфері: дис. …
канд. екон. наук. ; Харків. регіональн. ін-т держ. управл. Нац. акад. держ. управл. при Президентові України. — Харків, 2009. — 214 с.

7. Павліха Н.В. Концептуальні засади управління проектами сталих просторових систем / Н.В. Павліха,
Ю.В. Марчук // Управління розвитком складних систем. — 2014. — Вип. 18. — С. 74—79.

8. Скібіцький О.М. Організація бізнесу. Менеджмент підприємницької діяльності : навч. посіб. / О.М. Скібіцький, В.В. Матвєєв, Л.І. Скібіцька. — К. : Кондор, 2011. — 912 с.

9. Сторонянська І.З. Регіональний розвиток України: проблеми інтеграції та конвергенції : монографія / І.З. Сторонянська ; Ін-т регіональн. дослідж. НАН України. — Львів, 2010. — 324 с. (Серія «Проблеми регіонального розвитку»).

10. Кіш Є. Проблеми транскордонного співробітництва України і Євросоюзу / Є. Кіш // Український центр політичного менеджменту. — 2006. — № 5. — С. 131—144.

11. Студенніков І. Транскордонне співробітництво та його місце в регіональному розвитку / І. Студенніков / Регіональна політика в країнах Європи: уроки для України / за ред. С. Максименка. — К. : Логос, 2000. — С. 138—167.

12. Бескровный И.М. Анализ альтернатив и выбор диагностических гипотез. Часть I. Правило Байеса и методы теории принятия решений / И.М. Бескровный // Международный журнал прикладных и фундаментальных исследований. — 2012. — № 2. — С. 33—40.

13. Тітаренко Г.Б. Вибір експертів у дослідженнях методології та організації бухгалтерського обліку, контролю та аналізу / Г.Б. Тітаренко, М.Д. Корінько / Актуальні проблеми економіки. — 2010. — № 7 (109). — С. 270—277.

14. Арапов С.М., Арапова І.П. Елементи оцінки експертних рішень : навч. посіб. для студ. спец. «Програмне
забезпечення автоматизованих систем». — Вінниця : Вінницький держ. технічний ун-т, 2000. — 38 с.

15. Василенко В.Н. Многомерность параметров региона: территории, системы, пространства / В.Н. Василенко; науч. ред. В.В. Дружинина. — Дружковка : Юго-Восток, 2016. — 408 с.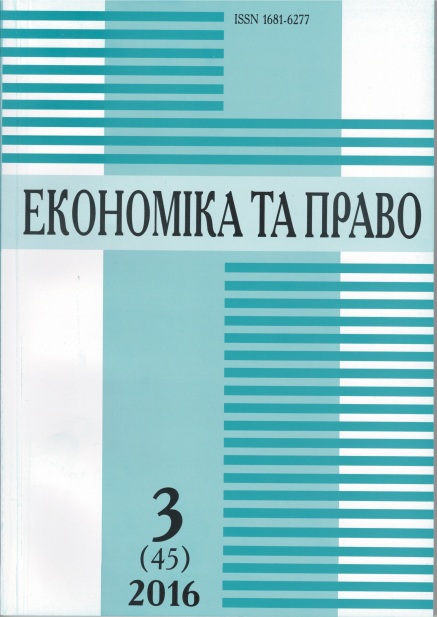 Abstract views: 147 PDF Downloads: 115