GERMAN AND ITALIAN REALIZATION EXPERIENCE IN THE INTERREGIONAL COOPERATION
Series "Economy": Economic and legal problems of interregional cooperation
Abstract
The article reveals the European experience implementing interregional cooperation and strategies for its development on the Germany and Italy example as the developed countries. Presents the main programs and action plans for the development of interregional cooperation and analyzes some indicators of social and economic development.
REFERENCES
1. Chuzhykov V. Modernizatsiya rehional'noyi polityky v YeS [Modernisation of EU regional policy], Ekonomika Ukrayiny, vol. 3, pp. 51-58.
2. Koordinierungsrahmen der Gemeinschaftsaufgabe (2016), Verbesserung der regionalen Wirtschafts, available at: https://www.bmwi.de/BMWi/Redaktion/PDF/J-L/koordi nierungsrahmen-gemeinschaftsaufgabe-verbesserungregionale-wirtschaftsstruktur-ab-010714,property=pdf,bereich=bmwi2012,sprache=de,rwb=true.pdf (Accessed 25August 2016)
3. The official site of Eurostat (2014), Income of households by NUTS 2 regions, availableat: http://ec.europa.eu/eurostat/en/web/products-datasets/-/TGS00026 (Accessed 27 August 2016)
Keywords
interregional cooperation, European countries, strategic development, program, action plan
Downloads
Download data is not yet available.
References
1. Чужиков В. Модернізація регіональної політики в ЄС / В. Чужиков // Економіка України. — 2008. — № 3. — C. 51—58.

2. Koordinierungsrahmen der Gemeinschaftsaufgabe «Ver besserung der regionalen Wirtschafts», ab 4. August 2016, accessed https://www.bmwi.de/BMWi/Redaktion/PDF/J-L/koordinierungsrahmen-gemeinschaftsaufgabe-verbesserung-regionale-wirtschaftsstruktur-ab-010714,property=pdf,bereich=bmwi2012,sprache=de,rwb=true.pdf

3. Eurostat. Income of households by NUTS 2 regions, Juli 2014, accessed: http://ec.europa.eu/eurostat/en/web/products-datasets/-/TGS00026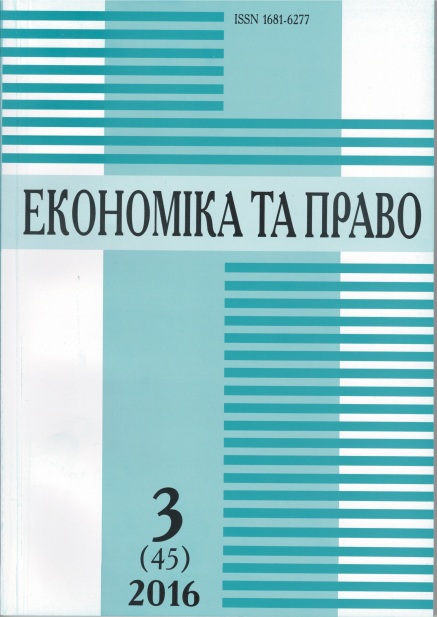 Abstract views: 121 PDF Downloads: 193