PLANNING AND FORECASTING BUDGET USING THE PROGRAM-TARGET METHOD IN THE BUDGET PROCESS
Series "Law": economic law, economic legal proceedings
Yа.R. Degtyar

Taras Shevchenko National University of Kyiv, Kyiv
Abstract
The article deals with the problematic issues about the nature and organization of the processes of budget planning and forecasting in the context of the use of such methods of their implementation, which would fully meet the requirements of today. The article is devoted to substantiation of directions of improvement of budget planning. We investigate the current mechanism of budget planning in Ukraine, identified the main problematic issues in this area. The essence of program-target method of formation and budget planning in Ukraine. Are the tasks of program-target method and identifies issues for its implementation in Ukraine.
REFERENCES
1. Zayichko I.V. (2010), Rol' byudzhetnoyi polity'ky' u za bezpechenni finansovoyi nezalezhnosti organiv miscevogo samovryaduvannya [The role of fiscal policy in ensuring financial independence of local authorities], Naukovi praci NDFI, vol. 1 (50), pp. 47-55.
2. Vasy'ly'k O.D. and Pavlyuk K.V. (2004), Byudzhetna sy'stema Ukrayiny' [The budget system of Ukraine], Centr navchal'noyi literatury', Kyiv, Ukraine.
3. Fedosov V., Oparin V., Safonova L. and other (2004), Byudzhetny'j menedzhment [Budget management], in Fedosov V. (ed), KNEU, Kyiv, Ukraine.
4. Chugunov I.Ya. and Zaparina I.V. (2008), Rozvy'tok programno-cil'ovogo metodu planuvannya byudzhetu [The development of program - target method in budget planning], Finansy' Ukrayiny', vol. 5, pp. 3-14.
5. Pavlyuk K.V. (2006), Byudzhet i byudzhetny'j proces v umovah tranzy'ty'vnoyi ekonomiky' Ukrayiny' [Budget and budget process in the conditions of transitive economy of Ukraine], NDFI, Kyiv, Ukraine.
6. The Verkhovna Rada of Ukraine (2010), Byudzhetnyy kodeks Ukrayiny [The budget code of Ukraine], available at: //http://search.ligazakon.ua/l_doc2.nsf/link1/T102456.html (Accessed 08 September 2016).
7. Mostovy'j G.I. (2004), Efekty'vne derzhavne upravlinnya — golovna peredumova stalogo ekonomichnogo rozvy'tku derzhavy' [Efficient administration of the state is the main prerequisite for sustainable economic development of the state], Materialy' nauk. — prakt. konf. [Proceedings of Scientific-practical Conference] Byudzhet ta finansovy'j kontrol' u derzhavnomu upravlinni [The budget and financial control in public administration], Kharkiv, Ukraine, November 27, 2004, pp. 3-6.
8. Ny'zhny'k N., Kereczman V. and Sayenko V. (2004), Spivvidnoshennya derzhavnogo regulyuvannya regional'nogo rozvy'tku ta regional'nogo upravlinnya [The ratio of state regulation of regional development and regional management], Visn. NADU, vol. 1, pp. 275-279.
9. Moldovan O.O. (2013), Shhodo opty'mizaciyi procesiv byudzhetnogo prognozuvannya ta planuvannya v Ukrayini: Anality'chna zapy'ska [Optimization of processes of budget planning in Ukraine: Analytical note], available at: http://www.niss.gov.ua/articles/1089 (Accessed 08 September 2016).
10. Yaroshevy'ch N.B. and Matviyishy'n V.Ye. (2011), Etapy' vprovadzhennya programno-cil'ovogo metodu planu vannya byudzhetiv v Ukrayini [Stages of introduction of program-target method of planning budgets in Ukraine], Naukovy'j visny'k NLTU Ukrayiny', vol. 21.18, pp. 294-301.
11. Voronova L.K., Kucheryavenko M.P. and Pryshva N.Yu. (2010), Finansove pravo Ukrayiny: navch. posib.: za vymohamy kredytno-modul'noyi systemy orhanizatsiyi navch. protsesu [Financial law of Ukraine: textbook: according to the requirements of credit-modular system of educational process organization], Vseukr. asotsiatsiya vyd. Pravova yednist', Kyiv, Ukraine.
12. Derevchuk O.I. (2010), Zmist ta osobly'vosti program nocil'ovogo metodu byudzhetnogo finansuvannya [Content and features of program-target method of budget fi nancing], Chasopy's Ky'yivs'kogo universy'tetu prava, vol. 1, pp. 129-134.
13. The Verkhovna Rada of Ukraine (2000), Pro derzhavne pro gnozuvannya ta rozroblennya program ekonomichnogo i social'nogo rozvy'tku Ukrayiny': Zakon Ukrayiny [On state forecasting and developing programs for economic and social development of Ukraine: The Law of Ukraine], available at: http://zakon2.rada.gov.ua/laws/show/1602-14 (Accessed 08 September 2016).
14. Matnenko A.S. (2009), Pravovoe reguly'rovany'e programmno-celevogo metoda byudzhetnoj deyatel'nosty' [Legal regulation of program-target method in budget acti vities], PhD. Diss., law, F.M. Dostoevskiy gosudarstvennyj uny'versy'tet of Omsk, Omsk, Russia.
15. Kachkovs'ka O. (2010), Novy'j Byudzhetny'j kodeks: analiz najvazhly'vishy'h zmin [Budget code: analysis of the major changes], Balans — byudzhet, vol. 34-35 (289-290), pp. 47-48.
16. The Cabinet of Ministers of Ukraine (2002), Pro Kontsepsiyu vykorystannya prohramno — tsil'ovoho metodu u byudzhetnomu protsesi: Rozporyadzhennya [On the Concept of using the performance program budgeting method in the budget process: The Order], available at: http://zakon1.rada.gov.ua/laws/show/538-2002-%D1%80 (Accessed 14 September 2016).
Keywords
budget, budget planning, budget forecasting, budgeting, result-oriented, program-target method of planning
Downloads
Download data is not yet available.
References
1. Заїчко І.В. Роль бюджетної політики у забезпеченні фінансової незалежності органів місцевого самоврядування / І.В. Заїчко // Наукові праці НДФІ. — 2010. — № 1 (50). — С. 47—55.

2. Василик О.Д. Бюджетна система України: підруч. для студ. екон. спец. ВНЗ / О.Д. Василик, К.В. Павлюк. — К. : Центр навчальної літератури, 2004. — 544 с.

3. Федосов В.М. Бюджетний менеджмент: підручник / [В. Федосов, В. Опарін, Л. Сафонова та ін.]; за заг. ред. В.М. Федосова. — К. : КНЕУ, 2004. — 864 с.

4. Чугунов І.Я. Розвиток програмно- цільового методу планування бюджету / І.Я. Чугунов, І.В. Запаріна // Фінанси України. — 2008. — № 5. — С. 3—14.

5. Павлюк К.В. Бюджет і бюджетний процес в умовах транзитивної економіки України: монографія / К.В. Павлюк. — К. : НДФІ, 2006. — 584 с.

6. Бюджетний кодекс України від 08.07.2010 № 2456-VI [Електронний ресурс]. — Режим доступу : //http://search.ligazakon.ua/l_doc2.nsf/link1/T102456.html

7. Мостовий Г.І. Ефективне державне управління — головна передумова сталого економічного розвитку держави / Г.І. Мостовий // Бюджет та фінансовий контроль у державному управлінні: матеріали наук.-практ. конф. (27 лист. 2003 р.). — Харків, 2004. — С. 3—6.

8. Нижник Н. Співвідношення державного регулювання регіонального розвитку та регіонального управління / Н. Нижник, В. Керецман, В. Саєнко // Вісн. НАДУ. — 2004. — № 1. — С. 275—279.

9. Молдован О.О. Щодо оптимізації процесів бюджетного прогнозування та планування в Україні. Аналітична записка [Електронний ресурс]. — Режим доступу : http://www.niss.gov.ua/articles/1089/

10. Ярошевич Н.Б. Етапи впровадження програмно-цільового методу планування бюджетів в Україні / Н.Б. Ярошевич, В.Є. Матвіїшин // Науковий вісник НЛТУ України: зб. наук.-техн. праць. — Львів, 2011. — Вип. 21.18 — С. 294—301.

11. Фінансове право України: навч. посіб.: за вимогами кредитно-модульної системи організації навч. процесу / [Л.К. Воронова, М.П. Кучерявенко, Н.Ю. Пришва та ін.]: за заг. ред. Л.К. Воронової. — К. : Всеукр. асоціація вид. «Правова єдність», 2010. — 395 с.

12. Деревчук О.І. Зміст та особливості програмно-цільового методу бюджетного фінансування / О.І. Деревчук // Часопис Київського університету права. — 2010. — № 1. — С. 129—134.

13. Закон України «Про державне прогнозування та розроблення програм економічного і соціального розвитку України» від 23.03.2000 № 1602-III [Електронний ресурс]. — Режим доступу : http://zakon2.rada.gov.ua/laws/show/1602-14

14. Правовое регулирование программно-целевого метода бюджетной деятельности: автореф. дис. ... док. юр. наук: 12.00.14 / Матненко Александр Сергеевич; «Омский государственный университет имени Ф.М. Достоевского». — Омск, 2009. — 41 с.

15. Качковська О. Новий Бюджетний кодекс: аналіз найважливіших змін / О. Качковська // Баланс — бюджет. — 2010. — № 34 — 35 (289—290) 23.08.2010. — С. 47—48.

16. Розпорядження Кабінету Міністрів України «Про Концепцію використання програмно — цільового методу у бюджетному процесі» від 14.09.2002 № 538-р [Електронний ресурс]. — Режим доступу : http://zakon1.rada.gov.ua/laws/show/538-2002-%D1%80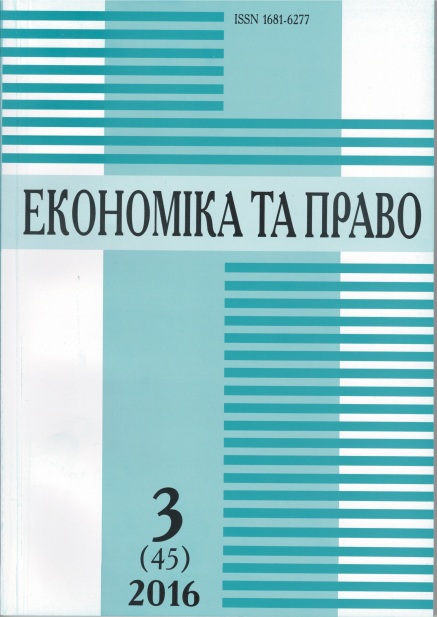 Abstract views: 193 PDF Downloads: 135