ECOLOGICAL URBANISM AS A FACTOR OF SOCIO-ECONOMIC AND ECOLOGICAL DEVELOPMENT OF MODERN CITIES AND BALANCED USE OF NATURE
Section "Economics": Economic and Legal Problems of City Development
Abstract
The increasing pace of urbanization in the world makes modern cities important elements in the ecosystems of the planet. The main factor of urban development was their economic attractiveness as a center of public goods and great opportunities for market, public and economic supply. Being in an urban environment in a person automatically increases the level of needs, and these needs are fully met. Such vitality of cities for a person is conditioned by their excessive consumer functions in relation to the environment. The city can be characterized as an artificial parasitic system that requires as much natural resources as possible, leaving only waste. And most importantly, there is no limit to these needs, because that's how the human economic system works. For the prospect of urban survival in the face of resource depletion and the great debt of humanity to the planet, it is urgent to rebuild cities into self-sufficient, productive systems. The main factors of increase of ecological footprint of cities are considered in the article. The role of land quality in the well-being of the country, the degree of yield, and therefore economic efficiency, is analyzed. The main measures and proposals for reducing the "ecological footprint" of cities are considered. The main advantages of urban agriculture are given, and recommendations are given on the implementation of ecological restructuring based on the principles of eco-urbanism and permaculture for Ukrainian cities.
Priority for environmentally friendly technologies and systemic landscaping can significantly reduce the negative impact of the urban system on humans. Urban agriculture is able to significantly reduce the cost of transportation, the cost of human and material resources; to encourage the improvement of environmental conditions of the urban environment in order to expand the range of products grown.
REFERENCES
1. Linch K. Obraz goroda. Perju s angl. V.L. Glazychev; Sostavitel' A.V. Ikonnikov; Pod redakciej A.V. Ikonnikova. M.: Strojizdat, 1982. 328 p. [in Russian].
2. Hollis Leo. Goroda vam na pol'zu. Genij megapolіsa. Per. s angl. M. Korobochkin. Strelka Press, 2015. 432 p. URL: https://www.labirint.ru/books/502142/ [in Russian].
3. CANactions School STUDIO #1. Published on Mar 3, 2016. URL: https://issuu.com/canactions2013/docs/canactions_school_studio_1_final_pa_6d26d0cc92f9f4
4. Vse pro ekolohichnyi slid. Ukrainska makulaturna kompaniya. URL: http://umktrade.com.ua/vse-pro-ekolohichnyjslid/ [in Ukrainian].
5. Jekologicheskij sled. Prezentacija. 11.06.2012. URL: https://www.slideshare.net/Elziness/ss-13275998 [in Russian].
6. Interesnye fakty ob jekologii. EkoAl'jans. URL: http://ecoalliance.com.ua/ru/biblioteka/stati-po-ekologii/interesnyiefaktyi-ob-ekologii [in Russian].
7. Sostojanie mirovyh zemel'nyh i vodnyh resursov dlja proizvodstva prodovol'stvija i vedenija sel'skogo hozjajstva. Upravlenie sistemami, nahodjashhimisja pod ugrozoj. Svodnyj doklad. 59 p. URL: http://docplayer.ru/30616152-Sostoyanie-mirovyh-zemelnyh-i-vodnyh-resursov-dlya-proizvodstva-prodovolstviya-i-vedeniya-selskogohozyaystva.html [in Russian].
8. Jekologicheskij sled — mera vozdejstvija cheloveka na sredu obitanija. Narodnyj blogger. 30.07.2018. URL: https://blogger.com.ua/2018/jekologicheskij-sled-mera-vozdejstvija/ [in Russian].
9. Sumarokov A. Biourbanistika, ekourbanistika i landshaftnyj urbanizm: teorija zdorovogo goroda. Prostranstvo. URL: https://www.prostranstvo.media/biourbanistika-jekourbanistika-i-landshaftnyj-urbanizm-teorii-zdorovogogoroda/ [in Russian].
10. Jekologicheskij mikrourbanizm v makroarhitekture ot WOHa Architects. URL: https://yav.io/woha-architecture/ [in Russian].
11. Organichna arhitektura. Wikipedia. URL: https://uk.wikipedia.org/wiki/ Organichna_arhitektura [in Ukrainian].
12. Sydbombinh i permakultura — novi trendy eko-urbanistyky. Pro biznes. URL: http://pro-biznes.com.ua/ekologichnii-socialni-proekti/sidbombing-i-permakultura-novi-trendi-eko.html [in Ukrainian].
13. Laumann K., Garling T., Stormark K.M. Rating scale measure of restorative components of environments. Journal of Environmental Psychology. 2001. No. 21 (1). P. 31-44. https:// doi.org/10.1006/jevp.2000.0179
14. Znaiomtesia — Permakultura! Halytskyi korespondent. 18.04.2017. URL: http://gk-press.if.ua/znajomtesya-permakultura/ [in Ukrainian].
15. Vid horodu na pidvikonni do zelenoho dakhu — navishcho potribne miske fermerstvo. Velyka epokha. 21.02.2018. URL: www.epochtimes.com.ua/dobri-novyny/vid-gorodu-na-pidvikonni-do-zelenogo-dahu-navishcho-potribnemiske-fermerstvo-126660 [in Ukrainian].
16. Seeland K., Dubendorfer S., Hansmann R. Making friends in Zurich's urban forests and parks: The role of public green space for social inclusion of youths from different cultures. Forest Policy and Economics. 2009. No. 11 (1). P. 10-17. https://doi.org/10.1016/j.forpol.2008.07.005
17. Cervinka R., Holtge J., Pirgie L., Schwab M., Sudkamp J., Haluza D., Arnberger A., Eder R., Ebenberger M. Green Public Health — Benefits of Woodlands on Human Health and Well-being [Zur Gesundheitswirkung von Waldlandschaften]. Vienna, Austria: Bundesforschungszentrum fur Wald (BFW), 2014. 48 p. URL: https://bfw.ac.at/cms_stamm/050/PDF/GPH_englisch_gesamt.pdf
18. Barton J., Pretty J. (2010). What is the Best Dose of Nature and Green Exercise for Improving Mental Health? A Multi-Study Analysis. Environmental Science & Technology. 2010. No. 44 (10). P. 3947-3955. https://doi.org/10.1021/es903183r
Keywords
ecological footprint, permaculture, soil quality, green spaces, plant cleaning ability
Downloads
Download data is not yet available.
References
1. Линч К. Образ города. Пер. с англ. В.Л. Глазычев; Составитель А.В. Иконников; Под ред. А.В. Иконникова. Москва: Стройиздат, 1982. 328 с.

2. Холлис Л. Города вам на пользу. Гений мегаполиса. Пер. с англ. М. Коробочкин. Москва: Strelka Press, 2015. 432 c. URL: https://www.labirint.ru/books/502142/ (дата обращения: 20.06.2019).

3. CANactions School STUDIO #1. Published on Mar 3, 2016. URL: https://issuu.com/canactions2013/docs/canactions_school_studio_1_final_pa_6d26d0cc92f9f4 (last accessed: 20.06.2019).

4. Все про екологічний слід. Українська макулатурна компанія. URL: http://umktrade.com.ua/vse-pro-ekolohichnyjslid/ (дата звернення: 17.05.2019).

5. Экологический след. Презентация. 11.06.2012. URL: https://www.slideshare.net/Elziness/ss-13275998 (дата обращения: 20.06.2019).

6. Интересные факты об экологии. ЭкоАльянс. URL: http://ecoalliance.com.ua/ru/biblioteka/stati-po-ekologii/interesnyie-faktyi-ob-ekologii (дата обращения: 20.06.2019).

7. Состояние мировых земельных и водных ресурсов для производства продовольствия и ведения сельского хозяйства. Управление системами, находящимися под угрозой. Сводный доклад. 59 с. URL: http://docplayer.ru/30616152-Sostoyanie-mirovyh-zemelnyh-i-vodnyh-resursov-dlya-proizvodstva-prodovolstviya-i-vedeniyaselskogo-hozyaystva.html (дата обращения: 20.06.2019).

8. Экологический след — мера воздействия человека на среду обитания. Народный блоггер. 30.07.2018. URL: https://blogger.com.ua/2018/экологический-след-мера-воздействия/ (дата обращения: 10.07.2019).

9. Сумароков А. Биоурбанистика, экоурбанистика и ландшафтный урбанизм: теория здорового города. Пространство. URL: https://www.prostranstvo.media/biourbanistika-jekourbanistika-i-landshaftnyj-urbanizm-teoriizdorovogo-goroda/ (дата обращения: 10.07.2019).

10. Экологический микроурбанизм в макроархитектуре от WOHa Architects. URL: https://yav.io/woha-architecture/ (дата обращения: 10.07.2019).

11. Органічна архітектура. Wikipedia. URL: https://uk.wikipedia.org/wiki/Органічна_архітектура (дата звернення: 10.07.2019).

12. Сидбомбінг і пермакультура — нові тренди еко-урбаністики. Про бізнес. URL: http://pro-biznes.com.ua/
ekologichni-i-socialni-proekti/sidbombing-i-permakultura-novi-trendi-eko.html (дата звернення: 17.05.2019).

13. Laumann K., Garling T., Stormark K.M. Rating scale measure of restorative components of environments. Journal of Environmental Psychology. 2001. № 21 (1). P. 31—44. https://doi.org/10.1006/jevp.2000.0179

14. Знайомтеся — Пермакультура! Галицький кореспондент. 18.04.2017. URL: http://gk-press.if.ua/znajomtesyapermakultura/ (дата звернення: 12.06.2019).

15. Від городу на підвіконні до зеленого даху — навіщо потрібне міське фермерство. Велика епоха. 21.02.2018. URL: www.epochtimes.com.ua/dobri-novyny/vid-gorodu-na-pidvikonni-do-zelenogo-dahu-navishcho-potribnemiske-fermerstvo-126660 (дата звернення: 12.06.2019).

16. Seeland K., Dubendorfer S., Hansmann R. Making friends in Zurich's urban forests and parks: The role of public green space for social inclusion of youths from different cultures. Forest Policy and Economics. 2009. № 11 (1). P. 10—17. https://doi.org/10.1016/j.forpol.2008.07.005

17. Cervinka R., Holtge J., Pirgie L., Schwab M., Sudkamp J., Haluza D., Arnberger A., Eder R., Ebenberger M. Green Public Health — Benefits of Woodlands on Human Health and Well-being [Zur Gesundheitswirkung von Waldlandschaften]. Vienna, Austria: Bundesforschungszentrum fur Wald (BFW), 2014. 48 p. URL: https://bfw.ac.at/cms_stamm/050/PDF/GPH_englisch_gesamt.pdf (last accessed: 12.06.2019).

18. Barton J., Pretty J. (2010). What is the Best Dose of Nature and Green Exercise for Improving Mental Health? A Multi-Study Analysis. Environmental Science & Technology. 2010. № 44 (10). P. 3947—3955. https://doi.org/10.1021/es903183r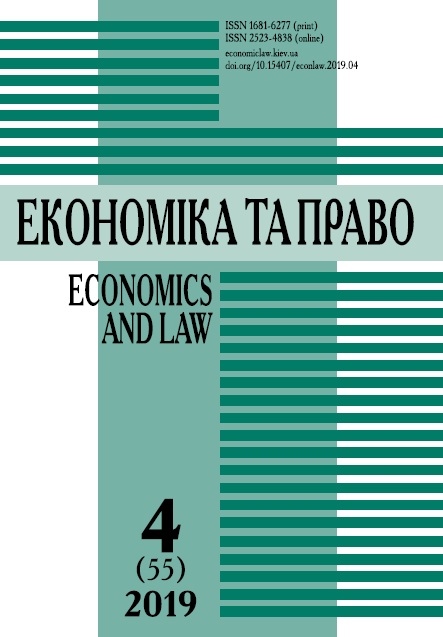 Abstract views: 28 PDF Downloads: 8